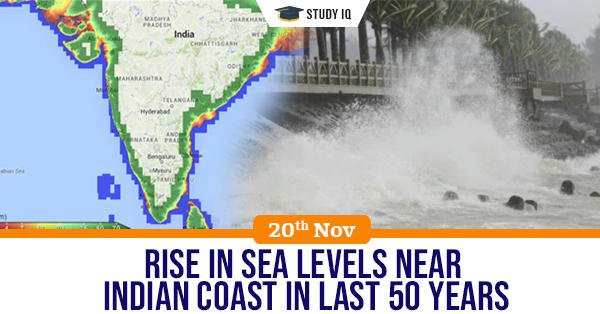 Rise in sea Levels near Indian coast in last 50 years
Date: 20 November 2019
Tags: Climate Change
Issue
Sea level along the Indian coast has risen by 8.5 cm in the last five decades, Union Minister Babul Supriyo said in the Rajya Sabha.
Background
Recently, a report of the UN's Inter Governmental Panel on Climate Change (IPCC) had warned that global sea levels are set to rise by at least 1m by 2100 if carbon emissions go unchecked, submerging hundreds of cities, including Mumbai and Kolkata, and in some cases entire countries.
Details
Satellite altimetry and model simulations showed that the North Indian Ocean (NIO) also exhibits decadal variability in terms of sea level rise.

During the last decade (2003-2013) it experienced sea level rise at a rate of 6.1 mm/year.

Rising sea levels can enhance the coastal inundation along the low lying areas during extreme events such as tsunami, storm surge, coastal flooding and coastal erosion.

The coastal areas that might get inundated due to the rising sea level have to be evaluated based on their elevation above mean sea level.

Since no long term data on land subsidence or emergence are available for these locations, the rate of increase of sea level due to climate change cannot be attributed with certainty.
Reasons for sea level rising
The two major causes of global sea level rise are thermal expansion caused by warming of the ocean (since water expands as it warms) and increased melting of land-based ice, such as glaciers and ice sheets.

Sea level rise at specific locations may be more or less than the global average due to local factors such as land subsidence from natural processes and withdrawal of groundwater and fossil fuels, changes in regional ocean currents, and whether the land is still rebounding from the compressive weight of Ice Age glaciers.
Effects of Sea level rise
Rising seas threaten infrastructure necessary for local jobs and regional industries. Roads, bridges, subways, water supplies, oil and gas wells, power plants, sewage treatment plants, landfills are at risk from sea level rise.