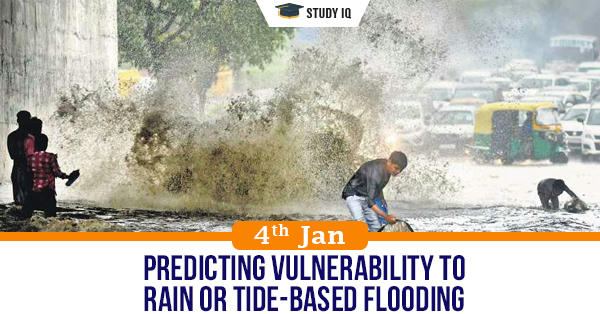 Predicting vulnerability to rain or tide-based flooding
Date: 04 January 2021
Tags: Climate Change
Issue
The C40 Cities report notes that by 2050, over 570 low-lying coastal cities will face projected sea level rise, putting over 800 million people at risk from the impacts of rising seas and storm surges.
Details
To understand if a coastal city is more prone to floods caused by tidal events or extreme rainfall, a research team devised a new metric or measure called the Tide–Rainfall Flood Quotient.

It is very important to understand the main driver of the flooding events for effective disaster management.

Using the past rainfall data, tidal data, and topography of the region we can apply this framework to pinpoint the major factor at play.

The team selected three geographically diverse areas viz Mithi Catchment in Mumbai, Jagatsinghpur District in Odisha, and Greater Chennai Corporation (GCC).

The new method helped classify these regions into 'storm-tide dominated' or 'pluvial (rainfall) dominated' regions.

The plain based topography in Bay of Bengal region prevented easy flow of flood waters into the sea, which further increased the risks.
Observations
The Chennai flood maps showed that the rainfall was the major reason for floods in the northern and central parts of the city.

The study also identified that the Mithi catchment in Mumbai was storm-tide dominated and Jagatsinghpur and Chennai were pluvial dominated.
Preventing flooding
Structures such as rainwater storing tanks, overspill lakes, detention basins, and wetlands to be developed to prevent water from flooding.

Tide-storm forecasting system should be equipped with new technology that will predict risks based on ocean circulation patterns.

Building coastal structures such as closure dams, tidal breakers, storm-surge barriers etc that will prevent ocean water from entering into the land.