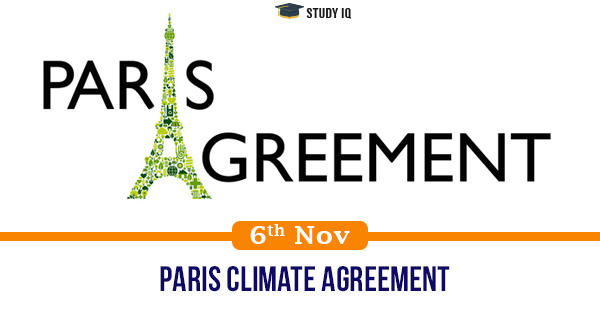 Paris Climate Agreement
Date: 06 November 2020
Tags: Climate Change
Issue
The United States has formally left the Paris Climate Agreement, three years after President Donald Trump announced his intention.
Background
So in June 2017, months after his inauguration, Trump announced his government's decision to quit the accord. Environmentalists fiercely criticised the move.
Details
The Paris Agreement's central aim is to strengthen the global response to the threat of climate change by keeping a global temperature rise this century well below 2 degrees Celsius above pre-industrial levels and to pursue efforts to limit the temperature increase even further to 1.5 degrees Celsius.

The Paris Agreement requires all Parties to put forward their best efforts through "nationally determined contributions" (NDCs) and to strengthen these efforts in the years ahead.

While poor countries and island states had requested a lower goal considering threats of droughts and sea-level rise, climate experts have said maintaining a 2 degrees increase will be a challenge in itself.

Developed countries were also told to provide financial resources to help developing countries in dealing with climate change and for adaptation measures.

A key feature of the Paris Agreement has been the way the agreement reflects the principle of 'common but differentiated responsibilities' (CBDR).

Emerging nations stressed on the developed world to take greater responsibility for climate actions since they are largely responsible for emitting almost all of the greenhouse gases from about 1850 to the 1980s.

The agreement also includes a mechanism to address financial losses faced by less developed nations due to climate change impacts like droughts, floods etc.

Developed nations won't face financial claims since it does not involve or provide a basis for any liability or compensation.
Exiting Paris Accord
In accordance with Article 28 of the Paris Agreement, a country cannot give notice of withdrawal from the agreement before three years of its start date in the relevant country.

Until the withdrawal takes effect, countries may have been obligated to maintain its commitments under the Agreement, such as the requirement to continue reporting its emissions to the United Nations.