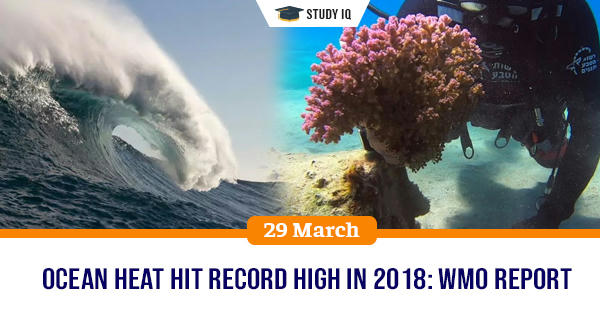 Ocean heat hit record high in 2018: WMO Report
Date: 29 March 2019
Tags: Climate Change
World Meteorological Organization (WMO) in its latest State of the Climate overview has noted that ocean heat has hit record high in 2018. This raises urgent new concerns about threat global warming is posing to marine life.
WMO's State of the Climate overview
It has reaffirmed that last four years had been hottest on record. They year 2018 saw new records for ocean heat content in upper 700 metres.

About 93% of excess heat, trapped around Earth by greenhouse gases that come from burning of fossil fuels, accumulates in world's oceans.

Oceans are also not warming evenly across the planet. The highest rates of ocean warming are occurring in southern ocean, where warming has also reached the deepest layers.

This could result in sea levels being substantially different in different places. Thermal expansion-water swelling as it warms- is expected to raise sea levels 12 inches (30 centimetres), above any sea level rise from melting glaciers and ice sheets.

Temperature of top 2,000 metres of world's oceans will rise nearly 0.8 degrees Celsius by the end of the century if nothing is done to reduce greenhouse gas emissions.
World Meteorological Organization (WMO)
It is intergovernmental organization whose mandate covers weather, climate and water resources. Its supreme body is World Meteorological Congress.

It was established in 1950 by ratification of WMO Convention. It is headquartered in Geneva, Switzerland.

It is specialized agency of United Nations (UN) for meteorology, operational hydrology and related geophysical science,

It is dedicated to international cooperation and coordination on state and behavior of Earth's atmosphere, its interaction with land and oceans, weather and climate and distribution of water resources.