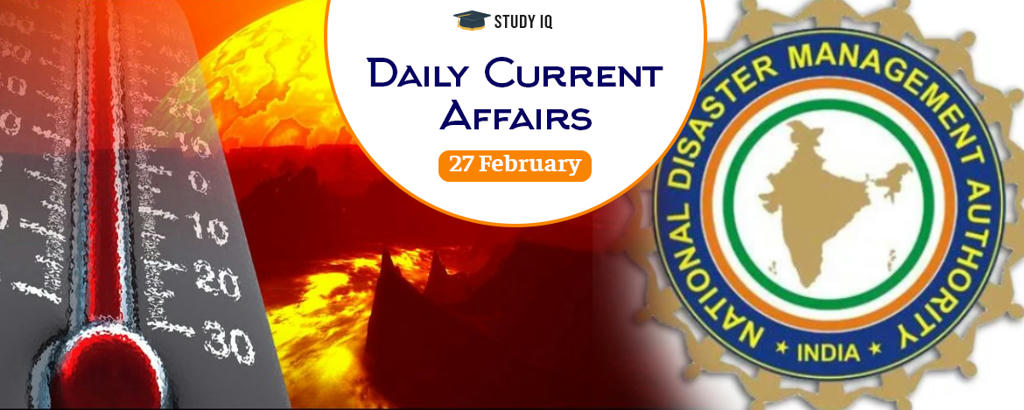 NDMA conducts national workshop on heat wave risk reduction
Date: 27 February 2019
Tags: Climate Change, Disaster & Disaster Management
National Disaster Management Authority (NDMA) conducted two-day national workshop on heat wave risk reduction in Nagpur, Maharashtra. This workshop was aimed at sensitising states about need of preparing and implementing specific Heat Action Plans. It was organised in collaboration with Maharashtra Government.
National workshop on heat wave
It provided opportunity for community capacity building and awareness generation among vulnerable populations.

It also discussed integration of long-term heat risk reduction measures into developmental plans as well as Climate Change Adaptation.

It was attended by experts on heat wave as well as other stakeholders such as early warning and forecasting agencies, State governments and research institutions etc.
Background
Heat wave has emerged as one of major severe weather events around globe in recent years. Climate change is driving temperatures higher as well as increasing the frequency and severity of heat waves. India too is experiencing increased instances of heat waves every year. NDMA has been closely working with vulnerable States to reduce adverse impacts of heat wave. Sustained efforts - timely release and effective implementation of national Guidelines on heat wave, preparation of Heat Action Plans by 13 vulnerable States, etc. have significantly brought down number of heat-related deaths in the past few years.
National Disaster Management Authority (NDMA)
It is apex statutory body mandated to lay down policies, plans and guidelines for Disaster Management to ensure timely and effective response to disasters.

It was established in 2009 through Disaster Management Act, 2005. It functions under aegis of Ministry of Home Affairs (MHA). It is headquartered in New Delhi.

It is governed by nine-member board chaired by Prime Minister of India (who is ex-officio chairperson).

Functions:

(i) It co-ordinates response to natural or man-made disasters and capacity-building in case of disaster resiliency and crisis response.

(ii) It frame policies, lay down guidelines and best-practices and coordinating with State Disaster Management Authorities (SDMAs) to ensure holistic and distributed approach to disaster management.