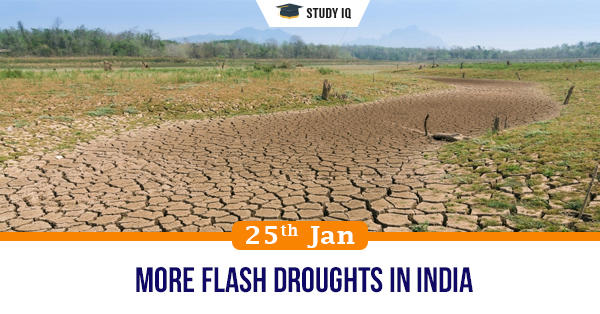 More flash droughts in India
Date: 25 January 2021
Tags: Climate Change
Issue
A new study has now pointed out that India could experience many flash droughts by the end of this century.
Background
In 1979, India faced a severe flash drought, affecting about 40% of the country and taking a toll on agriculture.
Details
Flash droughts are those that occur very quickly, with soil moisture depleting rapidly. Normally, developing drought conditions take months, but these happen within a week or in two weeks' time.

Several factors including atmospheric anomalies, anthropogenic greenhouse gas emissions play an important role.

The ongoing climate change has caused a significant increase in global temperature and this can lead to more and more flash droughts in the coming years.
Prediction
The team analysed the major flash droughts that occurred from 1951 to 2016 in India. They simulated the soil moisture using the meteorological data obtained from the India meteorological department.

Duration, intensity, and area of the flash droughts were studied and an overall severity score was given.

To predict the future flash droughts the team used a Community Earth System Model which simulates the summer monsoon precipitation, sea surface temperature, role of El Nino Southern Oscillation, and air temperature over India.

The analysis showed a considerable rise in the frequency of extremely dry and hot years in the coming three decades.

They also examined the role of greenhouse gas emissions, industrial aerosols, and land-use/land-cover change.
Effects
The increased frequency of flash droughts can have detrimental implications for crop production, irrigation demands and groundwater abstraction in India.
Controlling droughts
If we can meet the 'Paris Agreement' goals and limit global warming to well below 2 degrees C, the numbers and frequency of the projected flash droughts may go down.