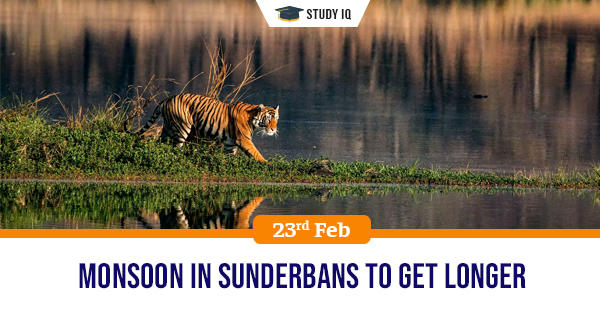 Monsoon in Sunderbans to get longer
Date: 23 February 2020
Tags: Climate Change
Issue
The monsoon in Sunderbans is likely to last longer and get more intense, according to a fact sheet titled The Sunderbans and Climate Change, which was made public during the ongoing Convention on the Conservation of Migratory Species of Wild Animals.
Background
While the fact sheet puts the rise in the sea level at 3.2 mm per year currently, it states that an estimated rise of 28 cm above the sea levels registered in the year 2000 would result in a 96 % decline of the habitat of the Bengal tiger in Bangladesh.
Details
Climate specialists have predicted that as climate change progresses, monsoon seasons in the Sundarbans will become longer and more intense. Conversely, drought conditions will also become more pronounced, presenting further challenges for agricultural producers in particular and ecosystems in general.

The document highlights the need for "long term coastal planning to ensure that these critically important intertidal habitats with their unique flora and fauna and local inhabitants have a space to retreat inland.

The paper also points out that the habitat of the Bengal tiger (Panthera tigris tigris) in the Sunderbans is also affected by the storm due to a decline in the availability of prey.

The fact sheet points out that the Sunderbans is also highly susceptible to flooding.Due to this, any swelling of ocean water is going to dramatically affect the area.

Apart from the frequent storms and the rise of sea level, another concern is the rise of salinity both in water and soil.

Excess levels of soil salinity can be incredibly damaging to ecosystems as salts can accumulate in the soil and hinder plant growth. It also threatens the health of freshwater aquatic life such as fish and giant prawns.
Sundarbans
The Sundarbans is a mangrove area in the delta formed by the confluence of Ganges, Brahmaputra and Meghna Rivers in the Bay of Bengal.

It spans from the Hooghly River in India's state of West Bengal to the Baleswar River in Bangladesh. Four protected areas in the Sundarbans are enlisted as UNESCO World Heritage Sites, viz Sundarbans National Park, Sundarbans West, Sundarbans South and Sundarbans East Wildlife Sanctuaries.

The forests, together with the Sundarbans mangroves, are important habitats for the Bengal tiger (Panthera tigris tigris). The forest also provides habitat for small wild cats such as the jungle cat (Felis chaus), fishing cat (Prionailurus viverrinus), and leopard cat (P. bengalensis).

The Bangladeshi portion of Sundarbans was designated a Ramsar site on 21 May 1992, and the Indian portion on 30 January 2019.