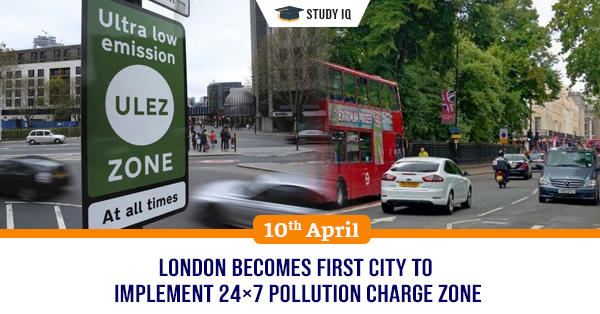 London becomes first city to implement 24×7 pollution charge zone
Date: 10 April 2019
Tags: Climate Change
London became first city in the world to implement pollution charge zone called Ultra Low Emission Zone (ULEZ) for 24×7 hours a week. Inside this zone, vehicles will have to meet tough emissions standards.
Ultra Low Emission Zone (ULEZ)
It aims to reduce toxic air pollution and protect public health, Motorists driving into this zone in vehicle not meet having new emission standard, then they will have to pay a daily charge.

Under new rules, polluting vehicles will be discouraged from entering the ULEZ. They will have to daily charge of £12.50 for some cars, vans and motorbikes and £100 for trucks, buses and coaches.

This zone will cover same area as existing Congestion Charge which is collected from drivers in the city center until 2021.

It will be expanded to cover the area between the major orbital roads of London known as the North and South Circular.