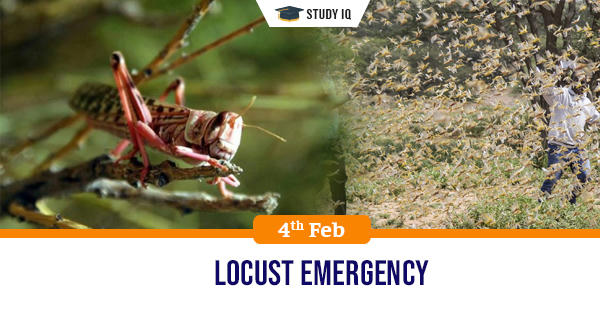 Locust emergency
Date: 04 February 2020
Tags: Climate Change
Issue
During the past few weeks, major locust attacks have been observed in several countries in western and southern Asia and in eastern Africa. Pakistan and Somalia have declared locust emergencies.
Background
Locusts are a group of short-horned grasshoppers that multiply in numbers as they migrate long distances in destructive swarms.
Details
The Food and Agriculture Organisation (FAO) of the United Nations has currently identified three hotspots of threatening locust activity - the Horn of Africa, the Red Sea area, and southwest Asia.

In India, locusts attacks originating from the desert area in Pakistan have struck parts of Rajasthan and Gujarat, causing heavy damage to standing crop.

Locust swarms from Ethiopia and Somalia have travelled south to Kenya and 14 other countries in the continent. Ethiopia's Rift Valley has also been hit by the pest.

The outbreak is the worst to strike Ethiopia and Somalia in 25 years, and the worst infestation in Kenya in the past 70 years.

In the Red Sea area, locusts have struck in Saudi Arabia, Oman, and Yemen. The swarms are believed to have arrived here from the Indo-Pakistan border area.

Four species of locusts are found in India: Desert locust (Schistocerca gregaria), Migratory locust (Locusta migratoria), Bombay Locust (Nomadacris succincta) and Tree locust (Anacridium sp.).
Relevance of locust attacks
The swarms devour leaves, flowers, fruits, seeds, bark and growing points, and also destroy plants by their sheer weight as they descend on them in massive numbers.

The desert locust is regarded as the most destructive pest in India as well as internationally, with a small swarm covering one square kilometre being able to consume the same amount of food in one day as 35,000 people.
Reason for increasing locust attacks
Change in cyclonic patterns over the Arabian Sea is behind the locust invasions in east Africa, west and south Asia.

The current attack of locust swarms is connected with the rise in frequency of cyclones in the otherwise-placid Arabian Sea.

Persistent cyclones in Arabian sea allowed rainwater to fall and gather in different parts of Rub' al-Khali desert, which created more favourable conditions for locusts to breed.