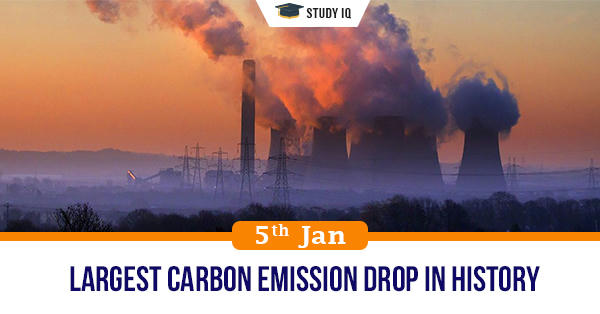 Largest carbon emission drop in history
Date: 05 January 2021
Tags: Climate Change
Issue
The United Nations and the Global Carbon Project have said that planet-warming carbon pollution was set to fall seven percent in 2020, the largest single-year drop in history.
Background
It puts 2020 roughly in line with what the UN says is needed to keep the Paris climate deal goal of limiting warming to 1.5°C within reach.
Details
The UN in its annual Emissions Gap report said that 2020's dip in emissions would have only a "negligible impact" on long-term warming without a profound shift towards green energy.

Global emissions hit a record high in 2019 of 59.1 billion tonnes of CO2 equivalent – a whopping 2.6 percent higher than the year before.

The countries that pollute the most have prioritised sectors heavily reliant on fossil fuels in their stimulus packages.

Fossil fuels today enjoy a significant amount of subsidies from governments, mainly in emerging economies, which creates unfair competition for clean energy sources, distorts the markets, and leads to inefficient use of energy.

Subsidies in the form of financial support, tax breaks, and underwriting – remain a significant impediment to greening the economy.
Carbon neutrality
Year 2020 saw numerous large emitters, including China and Japan, commit to achieving carbon neutrality for the first time.

Carbon neutrality refers to achieving net zero carbon dioxide emissions by balancing carbon dioxide emissions with removal (often through carbon offsetting) or simply eliminating carbon dioxide emissions altogether.

Shifting towards the use of renewable energy (e.g. hydro, wind, geothermal, and solar power) as well as nuclear power reduces GHG emissions.

Making changes to current industrial and agricultural processes to reduce carbon emissions (diet changes to livestock such as cattle can reduce methane production by 40%), Carbon projects and emissions trading are often used to reduce carbon emissions.