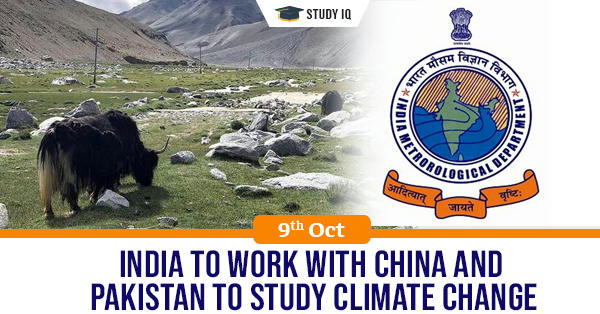 India to work with China and Pakistan to study climate change
Date: 09 October 2019
Tags: Climate Change
Issue
To gauge the impact of climate change on the Hindu Kush mountains and spruce up data-gathering, the India Meteorological Department (IMD) will collaborate with meteorological agencies in China and Pakistan, to provide climate forecast services to countries in the region.
Background
A report by the Intergovernmental Panel on Climate Change last month highlighted the threat to the HKH region from global warming.
Floods would become more frequent and severe in the mountainous and downstream areas of the Indus, Ganges and Brahmaputra river basins, because of an increase in extreme precipitation events.
Details
The Hindu-Kush-Himalayan (HKH) region is considered the Third Pole and has significant implications for climate. However, data-gathering here is sparse.

Alongside forecasting weather over long periods, the regional centres would provide data services, training and capacity-building, research and development.

The HKH region spans Afghanistan, Bangladesh, Bhutan, China, India, Kyrgyzstan, Mongolia, Myanmar, Nepal, Pakistan, Tajikistan, and Uzbekistan. It traverses about 5 million square kilometres and hosts a large and culturally diverse population.
Third pole
The region that encompasses the Himalaya-Hindu Kush mountain range and the Tibetan Plateau is widely known as the Third Pole because its ice fields contain the largest reserve of fresh water outside the Polar Regions.

This region is the source of the 10 major river systems that provide irrigation, power and drinking water for over 1.3 billion people in Asia – nearly 20% of the world's population.

The Third Pole contains vast cryospheric zones, is also the world's largest store of snow and ice outside the polar region.
Hindu Kush Mountains
The Hindu Kush is an 800-kilometre-long mountain range that stretches through Afghanistan, from its centre to northern Pakistan and into Tajikistan and China.

The Hindu Kush range has also been the passageway during the invasions of the Indian subcontinent and continues to be important during modern-era warfare in Afghanistan.