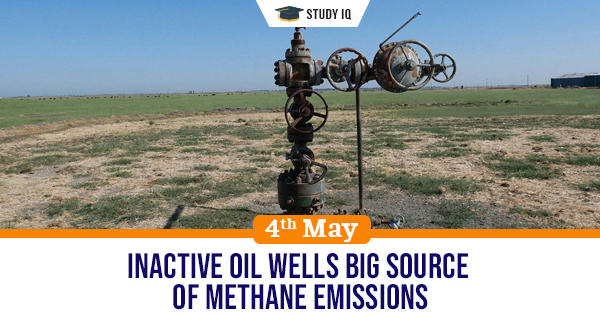 Inactive oil wells big source of methane emissions
Date: 04 May 2021
Tags: Climate Change
Issue
A study has shown evidence that uncapped and inactive oil wells could be the biggest emitter of methane into the atmosphere and water.
Background
Methane pollution has been increasing from the past couple of decades that has led to efforts to reduce their emission.
Details
The research was carried out in the Permian Basin of Texas, which is the largest oil-producing region on the Earth.

The methane emission from open wells was found to be as high as 132 grams per hour and average was about 6.2 grams per hour.

The leaking amount of methane across the abandoned wells is estimated to be equal to burning about 16 million barrels of oil.

Ground water mixed with the methane and associated gases leaked out to form large pools of brine that is equally poisonous.
Controlling emissions
Unused wells have to be regularly monitored and the amount of emissions should be controlled by suitable technology.
Methane
Methane is a colourless and odourless gas consisting of a single carbon atom and four hydrogen atoms.

The gas is highly flammable and second highest gas pollutant. It has high potential for greenhouse effect.

Major sources of methane pollution include anaerobic activities associated with wetlands, agriculture fields, livestock, biomass burning, fossil fuel emissions etc.