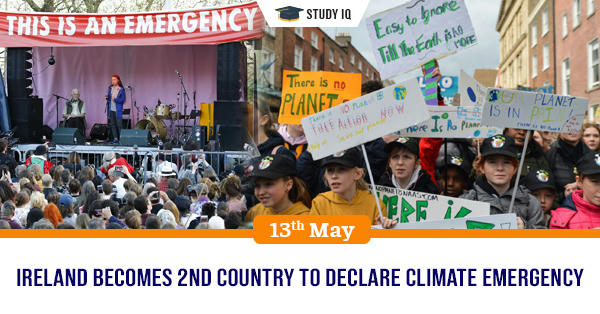 Ireland becomes 2nd country to declare Climate Emergency
Date: 13 May 2019
Tags: Climate Change
Ireland has become the second country in the world after Britain to declare climate and biodiversity emergency. The climate emergency declaration in this regard was passed in Ireland's Parliament (Oireachtas) with unanimous support of both ruling and opposition parties. It was passed when both the government and opposition parties agreed to amendment to a climate action report- The Oireachtas Climate Action report (Parliamentary report on climate action).
Key Facts
The amendment to parliamentary report declares climate emergency and calls on parliament to examine how Irish government can improve its response was accepted without a vote. Under this emergency, non binding measures will be undertaken by Government to make Ireland carbon-neutral by 2030, introduce electric car hubs or build sustainable homes to achieve that goal.
UK's emergency
United Kingdom's parliament was first in the world to declare a climate emergency. It had passed symbolic motion in this regard on May 1, 2019. Under it, British government has set 2050 target date to reach net zero emissions, which will be achieved without causing substantial economic damage and at a relatively low cost. The emergency motion was passed after 11 days of street protests in London by Extinction Rebellion environmental campaign group. The activists hope to reduce global greenhouse gas (GHGs) emissions to zero by 2025 and end biodiversity loss.