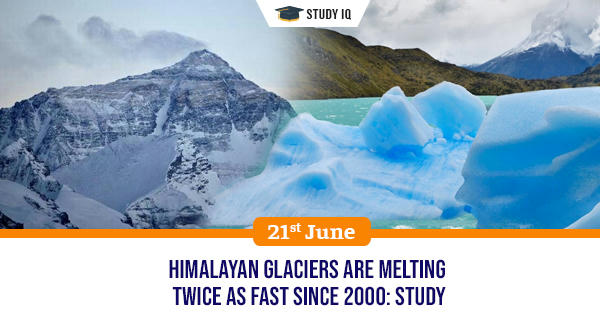 Himalayan glaciers are melting twice as fast since 2000: study
Date: 21 June 2019
Tags: Climate Change
Scientists have found that Himalayan glaciers are melting occurring twice as fast since 2000 as average temperatures rose. It was based study ice loss in 650 glaciers based on data obtained by comparing Cold War-era spy satellites with images from modern stereo satellites. It was found that these glaciers have lost more than quarter of their ice mass since 1975.
Background
In the 1970s, at the height of Cold War, US had deployed spy satellites that orbited globe and took thousands of photographs, using telescopic camera system for reconnaissance purposes. Scientists now are using those same images to show devastating impact of global warming on Himalayan glaciers. The overlapping images, each covering 30,000 square kilometres with ground resolution of six to nine metres, have been pieced together to form digital elevation models of Himalayas of that era. Using these images, scientists have analysed four decades of ice loss for 650 of largest glaciers across a 2,000 km transect across the Himalayas.
Key Findings
The annual mass losses of these glaciers suggest that of total ice mass present in 1975, about 87

%

remained in 2000 and 72

%

remained in 2016.

Similar mass loss rates across subregions and doubling of the average rate of loss during 2000–2016 relative to 1975–2000 intervals.

It asserts that rising temperatures are responsible for accelerating loss and is consistent with available multidecade weather station records scattered throughout HMA [High Mountain Asia, which includes all mountain ranges surrounding Tibetan Plateau].

However, this rules out other causes for glacier changes, such as the deposition of soot on snow and ice and changing precipitation patterns.