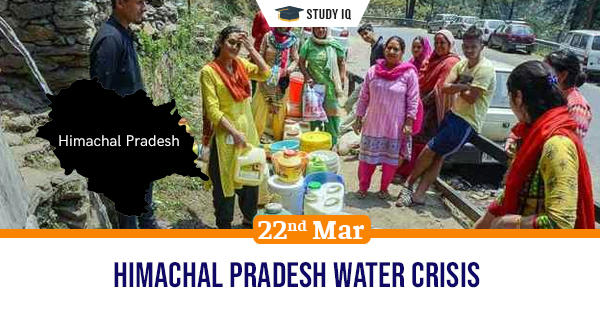 Himachal Pradesh water crisis
Date: 22 March 2021
Tags: Climate Change
Issue
Himachal Pradesh's water resource minister has warned that the state may face water crisis due to the impact of summer.
Background
Himachal Pradesh is one of the water sufficient states due to the presence of large sources of glacial water.
Details
Himachal Pradesh received low amounts of snow fall this season due to which groundwater sources such as springs, wells, lakes, streams etc did not get refill.

The state received only about 59 millimetres of precipitation this winter, which was 69 per cent less than normal condition.

Water sources have been drying very quickly in some areas due to inability of the soil to hold water for more time.

Himachal Pradesh has faced a similar crisis in 2018 also when water supply to Shimla was reduced drastically as a result of shortages.

There has been fear that in addition to drinking water, shortage is likely to affect crops and fodders for the animals.
Proposed solution
There are plans to re-install hand-pumps and bore-wells to harvest water from underground sources.

Water harvesting structures are planned to be built across the state so that demand for water can be handled.

There are also plans to provide water tanks to areas where there is no access to water. In future, the government will try to implement snow harvesting.
Snow harvesting
This technique is similar to rain water harvesting where snow melting on streets will be diverted to garden or other area of storage for future use.