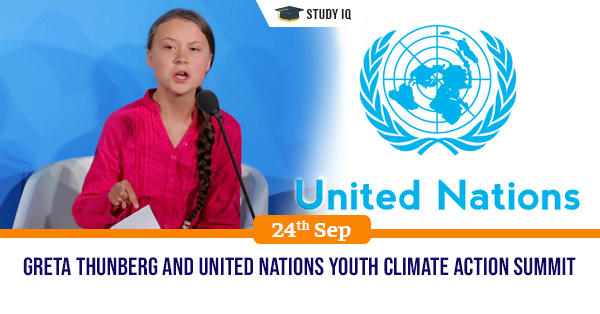 Greta Thunberg and United Nations youth Climate Action Summit
Date: 24 September 2019
Tags: Climate Change
Issue
Climate change activist Greta Thunberg innaugrated the United Nations Climate Action Summit in the United Nations (UN) headquarter on September 23, 2019.
Background
Millions of young people around the world had taken to the streets to demand emergency action on climate change in what could possibly be the largest climate protest in history, the Global Climate Strike.
Details
Greta Thunberg is a Swedish environmental activist focused on the risks posed by climate change.

when she was 15, Thunberg took time off school to demonstrate outside the Swedish parliament, holding up a sign calling for stronger climate action.
United Nations Youth Climate Action Summit
The UN Youth Climate Summit is a platform for young leaders who are driving climate action to showcase their solutions at the United Nations, and to meaningfully engage with decision-makers on the defining issue of our time.

The Youth Climate Summit will feature programms that brings together young activists, innovators, entrepreneurs, and change-makers who are committed to combating climate change at the pace and scale needed to meet the challenge.
Current status
The climate impacts such as extreme weather, thawing permafrost and sea-level rise are unfolding much faster than expected.Scientists say the urgency of the crisis has intensified since the Paris accord was agreed.

The agreement will enter a crucial implementation phase next year after another round of negotiations in Chile in December.

Pledges made so far under the agreement are nowhere near enough to avert catastrophic warming, after last year's carbon emissions hit a record high.