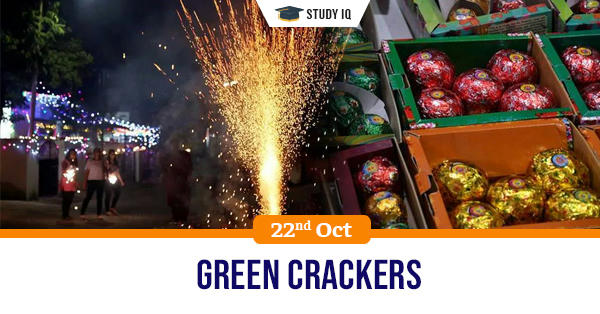 Green crackers
Date: 22 October 2019
Tags: Climate Change
Issue
With less than a week left for Diwali, there is no clarity on the types of firecrackers that individuals and families conscious of reducing their pollution footprint should buy.
Background
In October 2018, the Supreme Court had ruled that only "green firecrackers" having low emission and permissible sound limits were to be sold and used.
It had also fixed a timeslot for fireworks, between 8 pm and 10 pm on Diwali, and between 11.45 pm and 12.30 am on Christmas Eve and New Year.
Details
The Union Ministry of Science and Technology had launched environment-friendly firecrackers developed by the Council of Scientific and Industrial Research (CSIR) laboratories.

CSIR-NEERI developed new formulations for reduced emission light and sound emitting crackers (SWAS, SAFAL, STAR) with 30% reduction in particulate matter using Potassium Nitrate (KNO3) as oxidant.

The green firecrackers are supposed to have a changed composition of chemicals, and emit 30% less particulate matter when burned as compared to traditional firecrackers.
Particulate matter
Particulate matter is a mixture of solid particles and liquid droplets suspended in the air.

These include PM10, which are particles with a diameter equal to or less than 10 micrometres, and PM2.5 that are of diameter equal to or less than 2.5 micrometres.

Numerous studies have linked particulate pollution exposure to many health problems, including premature death in people with heart or lung diseases.

They can also settle on ground or water and, depending upon their chemical composition, may have an adverse impact on them.
Green crackers
These crackers have been named as safe water releaser (SWAS), safe minimal aluminium (SAFAL) and safe thermite cracker (STAR).

It has unique property of releasing water vapour and /or air as dust suppressant and diluent for gaseous emissions and matching performance in sound with conventional crackers.

SWAS crackers eliminates usage of (KNO3) Potassium nitrate and Sulphurwith consequent reduction in particulate matter (30-35%) SO2 and Nox.

STAR eliminates usage of KNO3 and S with consequent reduction in particulate matter (35-40%), SO2 and NOx.

SAFAL has minimal usage of aluminium (only in flash powder for initiation)with consequent significant reduction in particulate matter(35-40 %) compared to commercial crackers.