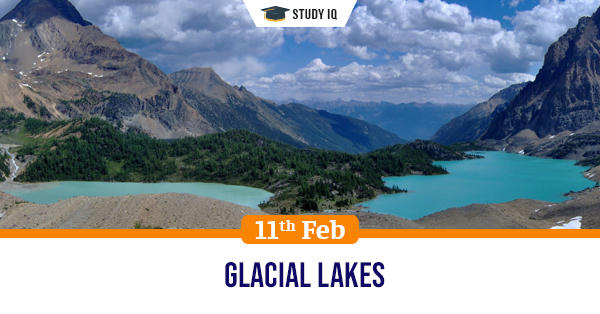 Glacial lakes
Date: 11 February 2021
Tags: Climate Change
Issue
Flash floods in Uttarakhand underline the risk of glacial lakes in the area. There is a need to reduce such threats.
Details
Events such as glacial lake bursts happen in the higher ranges. They do not cause any damage in the remote areas.

If there is a sudden change in temperature after snowfall, the fresh snow on the surface begins to melt and slip because of the higher ambient temperature.

Also, most of the glaciers in the area contain large amounts of debris. When the snow begins to slip, it carries with it some of the debris. It ultimately becomes very strong, eroding everything that comes in the way.

There are over 1,000 glaciers in Uttarakhand. Almost all of them are receding. Most of the glaciers also have debris cover.

When glaciers retreat due to rising temperatures, the snow melts but the debris remains. This debris aids in the formation of lakes.

Over the years, the frequency of formation of these lakes has increased. But despite that, there are not many GLOF (glacial lake outburst flood) events happening in Uttarakhand.

But there are over 1,200 big and small lakes in the high mountains of Uttarakhand. Many of them are increasing in size.
Threat reduction
A lot of them do pose a threat of similar kinds of incidents. It is extremely important to regularly monitor these lakes, and measure the rates at which they are increasing or shrinking.

A threat assessment needs to be done and regularly updated, and this has to be incorporated into the planning process for all kinds of activities.

It is not possible to completely prevent these kinds of incidents. But their potential to cause destruction can certainly be minimised.

A detailed study needs to be conducted to identify the ones that pose the maximum risk, monitor them continuously, and look for possible solutions that are suitable to local environments.
Glacial lake
A glacial lake is a body of water with origins from glacier activity. They are formed when a glacier erodes the land, and then melts, filling the depression created by the glacier.