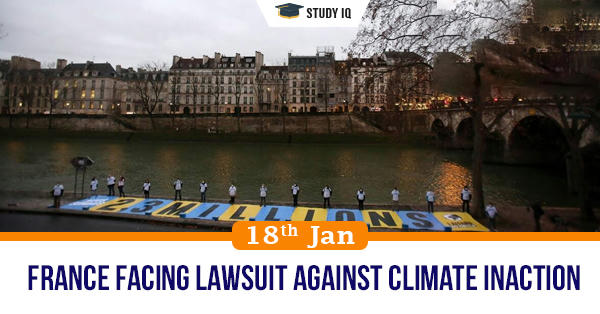 France facing lawsuit against climate inaction
Date: 18 January 2021
Tags: Climate Change
Issue
A Paris court has begun hearing a landmark case accusing the French government of failing to do enough to halt climate change.
Background
The case is part of a lawsuit launched two years ago by a group of environmental NGOs and backed by over 2.3 million citizens.
Details
The legal case dates back to 2018, when four prominent environmental NGOs — Greenpeace France, Oxfam France, Notre Affaire à Tous and Nicolas Hulot — filed a formal complaint against the French government.

Unhappy with the response they received, the NGOs launched a lawsuit in March 2019, seeking symbolic damages of just €1 from the French government.

The organisations accused the government of failing to live up the commitments it had made under the Paris Agreement and other national and international climate accords.

The NGOs claimed that the government had repeatedly postponed implementing policies to curb greenhouse gas emissions, and limit the rise in global temperatures.

The groups hope the French government will be held responsible for climate inaction following the case, which will set a precedent for other nations around the world.

The French Environment Ministry denied that it failed to comply with its legal obligations to fight climate change and called for the case to be dismissed.
France's actions on climate change
The Paris Agreement was signed in 2016 by nearly every country in the world, with the aim of limiting global warming to less than 2 degrees Celsius above pre-industrial levels.

Environmental experts say that most nations, including France, have failed to meet the commitments laid down in the agreement.

A report submitted by France's independent advisory council on climate warned that the government had to work harder to reduce carbon dioxide emissions in the country as it had failed to meet the first official objective of its 2015-18 carbon budget.

During this period, annual emissions dropped by a minuscule 1.1 per cent, which was much less than planned. The government would have to triple the rate of decrease to meet its targets by 2025.