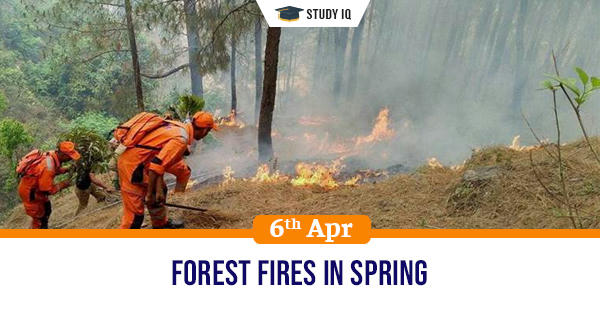 Forest fires in spring
Date: 06 April 2021
Tags: Climate Change
Issue
Uttarakhand has experienced large number of forest fire incidents in the last few months. In the last 24 hours, there were 45 such incidents.
Background
Forest fires have become a new common in India with large areas in the country becoming vulnerable.
Details
Since 2021, forest fires were observed in wildlife sanctuaries across India especially in sates of Himachal Pradesh, Madhya Pradesh, Nagaland-Manipur, Odisha and Gujarat.

Forest fires in India are usually common in summer months of April-May but their frequency has increased tremendously in Uttarakhand.

The reason for such forest fires is attributed to dry soils and vegetation that was caused as a result of weak monsoon.
Regions of forest fires
Kullu Valley, Dzukou Valley, Nainital, Simlipal National Park. Other incidents were reported in Bandhavgarh Forest Reserve and in sanctuaries for the Asiatic lion and the great Indian bustard in Gujarat.
Vulnerability to forest fires
Forest fires are most abundant in forest areas of Northeast and central India. Forests in Assam, Mizoram and Tripura fall in extremely fire prone zone.

Forests under very highly prone zone include in Andhra Pradesh, Meghalaya, Manipur, Mizoram, Maharashtra, Bihar, Nagaland, Odisha and Uttar Pradesh.

A total of about 26.2% areas of forests in India fall under the 'highly prone' and 'moderately prone' categories.

Himachal Pradesh and Uttarakhand witness the highest number of forest fire incidents in the country.
Cause of fires
Forest fires in India are caused by variety of reasons but majority of them are caused by human activities.

Climate change has been the major reason in areas especially the massive fires of the Amazon forests in Brazil and in Australia.

Dry wood, logs, dead leaves, stumps, dry grass and weeds act as fuel in triggering fire activities in Indian forests.

Natural reasons such as extreme heat and dryness, friction caused by rubbing of tree branches can also cause fire.
Difficulty in controlling
Access to areas deep within forest is the reason for hurdles in fire fighting. Shortage of staff is another major reason.

It is also difficult to transport water into the thick forests to douse the forest fires. Lack of aerial service also hampers the efforts.
Concerns of forest fires
Forest fires can have devastating effects on forest cover, soil, growth of trees, vegetation, and the overall flora and fauna of the area.

Soil moisture and fertility along with animal habitats are affected by forest fires. Large number of livelihood will be lost.
Efforts to protect forests
Forest department have developed the Forest Fire Alert System to track and control forest fires in real time.