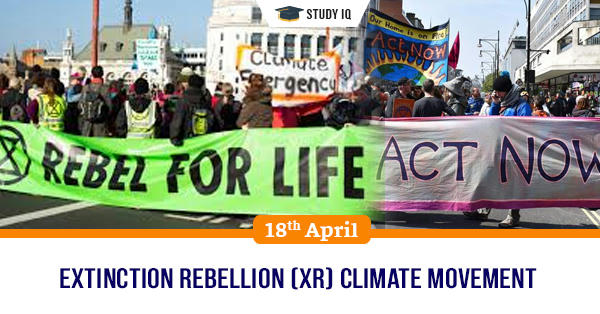 Extinction Rebellion (XR) Climate Movement
Date: 18 April 2019
Tags: Climate Change
Nearly 300 people were arrested in London during ongoing climate change protests organised by campaign group Extinction Rebellion that brought parts of the British capital to a standstill.
Extinction Rebellion (XR)
It is a civil society campaign group claims to be socio-political-conservation-environmental movement which intends to rally support worldwide around common sense of urgency to tackle climate breakdown.

Its aims to use non-violent civil disobedience to achieve radical change in order to minimise the risk of human extinction and ecological collapse by averting climate breakdown and halt biodiversity loss.

It was established in 2018 in United Kingdom by academics. Since then it has become one of world's fastest-growing environmental movements.

It cities its inspiration from grassroots movements such as Occupy Wall street, Mahatma Gandhi's independence movement, suffragette and Martin Luther King and others in civil rights movement.