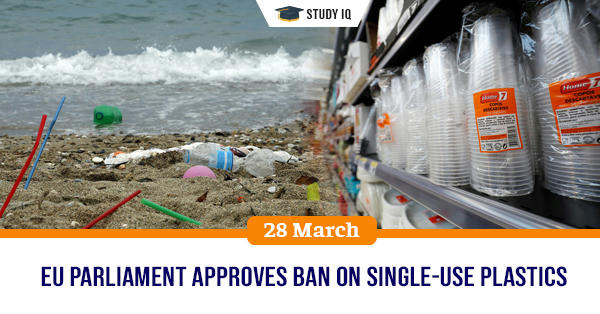 EU Parliament approves ban on single-use plastics
Date: 28 March 2019
Tags: Climate Change
European parliament has voted to ban single-use plastic products such as cutlery, cotton buds, straws and stirrers to counter plastic pollution. This proposal already has been approved by EU member states and EU officials. It will now be made into law and the ban on single-use plastics will come into force by 2021 in all EU member states.
Key facts
This ban targets top 10 disposable plastic products including plates, balloon sticks, food and beverage containers made of expanded polystyrene and all products made of oxo-degradable plastic.

This law allows member EU countries to choose their own methods of reducing use of other single-use plastics such as takeout containers and cups for beverages.

However, it will be mandatory on them to collect and recycle at least 90% of beverage bottles by 2029.

It also mandates tobacco companies to cover costs for public collection of cigarette stubs, which are the second most littered single-use plastic item.
Single use Plastics
They are disposable plastics are used only once and then thrown in the trash. These items mainly include plastic bags, straws, coffee stirrers, soda and water bottles and most food packaging.

These products especially petroleum based are difficult to recycle as they are not biodegradable and usually dumped into landfill where it is buried or it gets into water and finds its way into ocean.

These plastic products do not biodegrade i.e. decompose into natural substance like organic waste and degrades break downs into tiny particles after many years.

In the process of breaking down, they release toxic chemicals which harms environment by pollution it and make their way into food and water supply.

These toxic chemicals can cause cancer, infertility, birth defects, impaired immunity and many other ailments in humans.