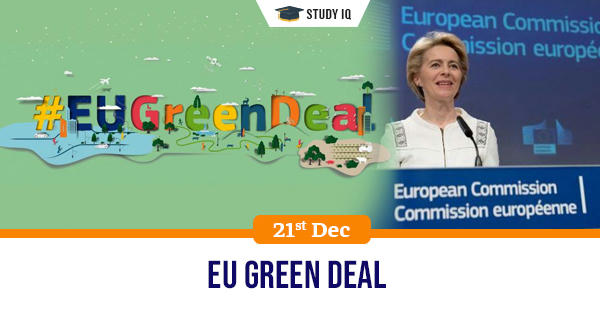 EU green deal
Date: 21 December 2019
Tags: Climate Change
Issue
The annual climate talks ended in Madrid last week with a disappointing outcome. The talks were unable to define the rules of a new carbon market to be set up under the Paris Agreement.
Background
The European Union, whose 28 member countries are together the third-largest emitter of greenhouse gases in the world after China and the United States, came up with an announcement on additional measures it would on climate change.
Details
The EU announcement, called European Green Deal,is hailed as a major step forward, even though it needs complementary efforts from other countries to make a significant impact.

Two major decisions are at the heart of the European Green Deal. One is about achieving "climate neutrality". The EU has promised to bring a law, binding on all member countries, to ensure it becomes "climate neutral" by 2050.

Over the last few months, there had been a growing demand for countries to commit to net-zero emissions by 2050. The UN Secretary-General had convened a special meeting on the sidelines of the General Assembly session in September to persuade countries to commit to this target.

The EU is now the first major emitter to agree to the 2050 climate neutrality target. It has said it would bring a proposal by March next year on a European law to enshrine this target.

In its climate action plan declared under the Paris Agreement, the EU was committed to making a 40 per cent reduction in its emissions by 2030 compared to 1990 levels. It is now promising to increase this reduction to at least 50 per cent and work towards 55 per cent.

The EU also happens to be only one among major emitters to retain the 1990 baseline for emission cuts, originally mandated under the Kyoto Protocol for all developed countries. Most other countries have shifted their baselines to 2005 or even later under the 2015 Paris Agreement.

The EU has proposals for making the steel industry carbon-free by 2030, new strategies for transport and energy sectors, a revision of managements of railway and shipping to make them more efficient, and more stringent air pollution emission standards for vehicles.

As long as many international partners do not share the same ambition as the EU, there is a risk of carbon leakage, either because production is transferred from the EU to other countries with lower ambition for emission reduction, or because EU products are replaced by more carbon-intensive imports.
Climate Neutrality
Climate neutrality, sometimes also expressed as a state of net-zero emissions, is achieved when a country's emissions are balanced by absorptions and removal of greenhouse gases from the atmosphere.
Absorption can be increased by creating more carbon sinks like forests, while removal involves technologies like carbon capture and storage.