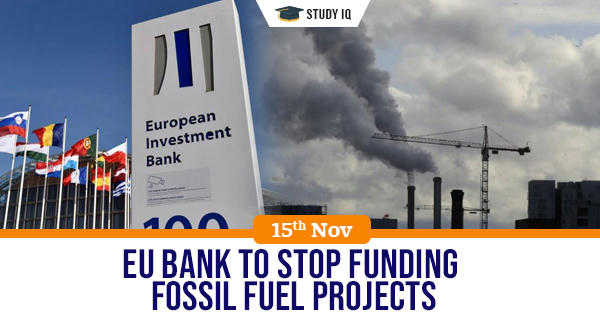 EU bank to stop funding fossil fuel projects
Date: 15 November 2019
Tags: Climate Change
Issue
The European Union's investment arm, EIB has said it will stop funding fossil fuel projects from 2022 as part of a new strategy aimed at fighting climate change.
Background
The European Investment Bank, the world's largest multilateral lender, had been criticised by climate groups for funding gas projects that potentially threatened the EU's commitment to the Paris climate goals.

Details
The ban on funding comes into effect a year later than originally proposed after lobbying by European Union member states.

The EIB's decision was expected, coming after EU finance ministers last week unanimously backed the phasing out of funding of gas, oil and coal projects to help combat climate change.

The EIB said the new energy plan would also "unlock" one trillion Euros (USD 1.1 trillion) of climate action and environmentally sustainable investment over the next decade.

But three countries, Poland, Romania and Hungary voted against, wanting more flexibility for gas funding, as did Estonia, Lithuania, Cyprus and Malta, which abstained.

Austria and Luxembourg also abstained, objecting to nuclear power being eligible for funding under the new policy.
European Investment Bank
The European Investment Bank is the European Union's non-profit long-term lending institution established in 1958 under the Treaty of Rome.

The EIB is a publicly owned international financial institution and its shareholders are the EU member states.

The member states set the bank's broad policy goals and oversee the two independent decision-making bodies, the board of governors and the board of directors. It is the world's largest international public lending institution.