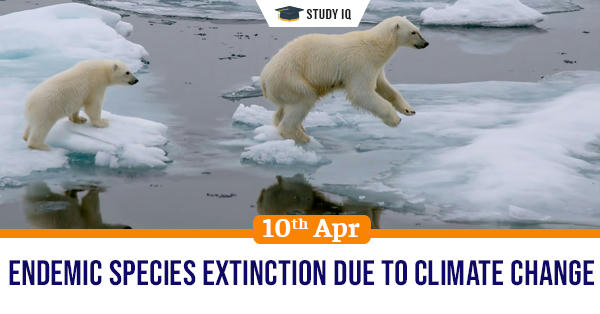 Endemic species extinction due to climate change
Date: 10 April 2021
Tags: Climate Change
Issue
A research has indicated that increase in greenhouse gas emissions will force plants and animals in unique places to go extinct.
Background
The effect of climate change will be more felt on the native and endemic species especially those present near islands.
Details
Keeping global temperatures below Paris climate agreement mandated range of 2°C may save the majority of species.

To arrive at the conclusion, scientists studied many biodiversity hotspots of the world both on land and sea.

Many of the hotspots contain species that are found only in that region and not anywhere else. There are also high number of plants and animals in these areas.

About a third of endemic species living on land and half of the species living in islands will undergo extinction if the planet heats by over 3°C.

About 84% of endemic plants and animals in the mountains face extinction due to the rise in temperatures. This figure rises to 100% on islands.
Endemic species
Endemic species are species of plants and animals that are present in only a single location throughout the globe.

Some of the most unique endemic species include lemurs of Madagascar, and the snow leopard of the Himalayas. Plant species include species such as lichen Lobaria.

Areas in Asia where there are chances of devastating effects on endemic species include islands in Indian Ocean, the Philippines, Sri Lanka and the Western Ghats.

The study also indicated that endemic species are 2.7 times likely to go extinct if the temperature rises unchecked.

Reducing emissions in line with the Paris Agreement will ensure that most of the endemic species will survive.