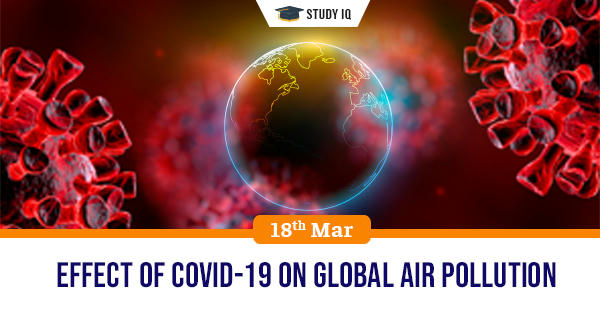 Effect of COVID-19 on global air pollution
Date: 18 March 2020
Tags: Climate Change
Issue
Researchers have discovered that spread of the new coronavirus has been decreasing air pollution, and possibly even saving lives in the process.
Background
The COVID-19 pandemic is getting more overwhelming by the day, with increasing lockdowns, a death toll of more than 7,000 people across the world, and a direct hit to the global economy.
Details
Stanford University environmental resource economists did some back-of-the-envelope calculations about the recent air pollution drop over parts of China and potential lives saved.

According to the researchers, it's very likely that the lives saved locally from the reduction in pollution exceed COVID-19 deaths in China.

The two months of pollution reduction has probably saved the lives of 4,000 children under 5 and 73,000 adults over 70 in China. That's significantly more than the current global death toll from the virus itself.

It is remarkable that both the number of deaths and the loss in life expectancy from air pollution rival the effect of tobacco smoking and are much higher than other causes of death.

With the second largest number of cases occurring in Italy, and the country putting in place strict quarantine measures, satellite data over northern Italy have now shown a large drop in air pollution, specifically nitrogen dioxide, a gas mainly emitted by cars, trucks, power plants and some industrial plants.

For now there is no peer-reviewed studies measuring the true health impact reduced emissions will bring, but given what is known about the dangers of widespread air pollution, it's likely that there will be a direct benefit in the shape of fewer pollution-related deaths.

These preliminary numbers demonstrate that this global health disaster is an opportunity to assess what positive changes might be possible if we change our habits on a global scale.