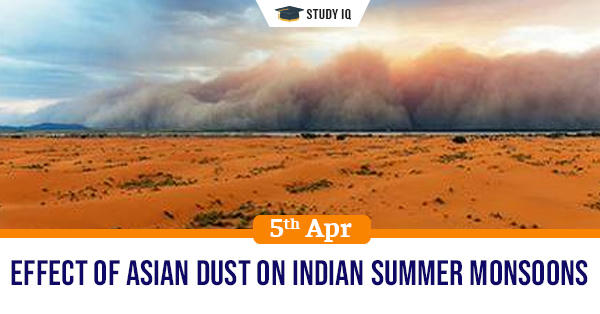 Effect of Asian dust on Indian summer monsoons
Date: 05 April 2021
Tags: Climate Change
Issue
A new study has tried to understand the effects of Asian dust winds on the Indian summer monsoons.
Background
Dust storms are quite common in North India and usually originate over Arabian deserts and move towards the Ganges plains.
Details
The dust particles present ion the storms are suspended in atmosphere where they absorb solar radiation.

These hot sand particles heat the upper layer of the atmosphere just enough for the air pressure to change and impact wind circulation.

The phenomenon creates a sort of elevated heat pump that pulls moisture from the ocean towards the Indian subcontinent.

This condition also has a reverse feedback mechanism where the monsoons can increase the winds in the Middle East to produce more dusts.

The existence of the heat pump near middle-east is a known but the effect it has on Indian monsoon is a new study.

The study also identified how aerosolized dust can serve as ice-cloud nuclei that increase formation of clouds and subsequent rainfall.
Importance
The phenomenon is very important for South Asia especially for agriculture and drinkable water needs of the population.