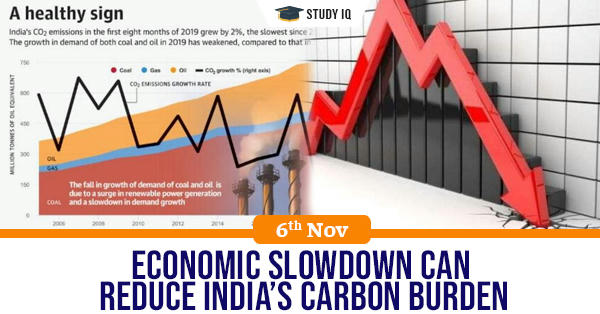 Economic slowdown can reduce India's carbon burden
Date: 06 November 2019
Tags: Climate Change
Issue
A study has found out that Carbon dioxide emissions are poised to grow at their slowest since 2001 due to a slower growth in coal-based power generation.
Background
Carbon dioxide emissions into the atmosphere, and the emissions of other GHGs, are often associated with the burning of fossil fuels, like natural gas, crude oil and coal.
Details
A report by the International Energy Emissions Agency had said that India's per capita emissions were about 40% of the global average and contributed 7% to the global carbon dioxide burden.

India has promised to reduce the emission intensity of its economy by 2030, compared to 2005 levels under UNFC climate change agreement.

It has also committed to having 40% of its energy from renewable sources by 2030.
The rise in C02 emissions from India sees wild swings from 7.7% in 2014 to 3.5% the next year and then back to 7.8% in 2018.

This is the first time that emissions are expected to grow below 3% from the previous year.

The analysis was restricted to August but the remaining months were unlikely to change the year's trend as coal generation trends are unlikely to change given the lack of demand and the contribution of renewables.

The combined total of coal sales from state-owned mines to consumers outside the power sector and imports of coking coal and coke fell 14% in 2017 and rose 15% in 2018. But it increased by just 3% in the first eight months of 2019.

Wind generation rose by 17% in the first six months of 2019 compared to the same period a year earlier, with solar up 30% and hydro increasing by 22%.
Carbon footprint
A carbon footprint is historically defined as the total emissions caused by an individual, event, organization, or product, expressed as carbon dioxide equivalent.