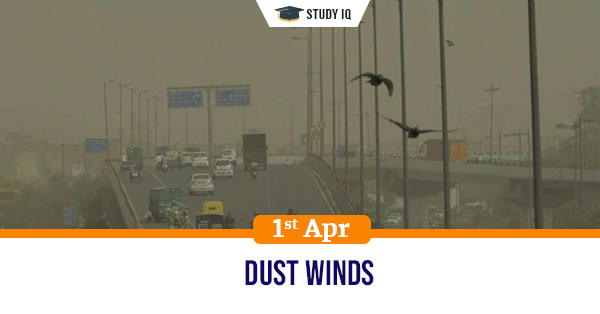 Dust winds
Date: 01 April 2021
Tags: Climate Change
Issue
Dust storms have increased in Delhi that has been deteriorating the air quality and increasing dust particles in the air.
Background
The dust storms are part of normal weather in Delhi during summers when dust laden winds arrive from Rajasthan.
Details
Cyclonic circulation over Rajasthan and high temperature in areas near North-west India has been fuelling the condition.

The weather department has observed a wind speed of 40-50 Km in the area that has been aiding the transport of dust particles towards Delhi.

The concentration of particulate matter of 10 micrometres (PM10) in air was 341 micrograms per cubic metre air, against the acceptable limit of 100 µg/m3.

The concentration of PM2.5 in air was about 105 µg/m3, a little higher than the acceptable limit of 60 µg/m3.

The data showed that dust winds have a large role in increasing the concentration of PM 10 particles in air.
Dust storms
Dust storm is a meteorological phenomenon when loose dust and sand are transported from one region to another through strong gust of winds.

These conditions are quite common in dusty and arid regions of the world. They occur as a result of pressure changes.

Dust storms can create pollution and reduce visibility of vehicular traffic. They also pollute water bodies.

Dust storms can affect crops and reduce their yield by blocking photosynthesis.

They are quite dangerous for human and animal health as they can cause respiratory problems and also lung cancer.

Dust storms are also beneficial as they transport minerals from sufficient region to deficient regions.