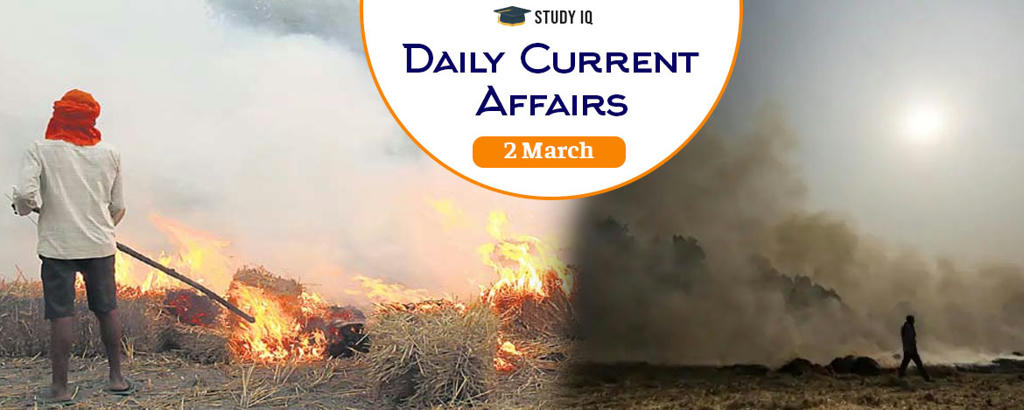 Crop residue burning is major contributor to air pollution in Delhi: Study
Date: 02 March 2019
Tags: Biodiversity, Climate Change
According to recent study, biomass burning is major source of air pollution in national capital Delhi especially in winters as it results in emission of larger concentration of black carbon (BC) aerosols due to incomplete combustion. The study was conducted by scientists at Stockholm University, Sweden and Indian Institute of Tropical Meteorology (regional centre, New Delhi).
Key Findings of Study
Sources of the high biomass emissions were regional rather than local and urban. BC entering Delhi from neighbouring states is around 42% in winter and 36% in autumn.

Burning of crop residue or wood and vehicular emissions, both contribute around 40% each to pollution in Delhi.

There is seasonal trend of variation of organic carbon and BC in particulate matter. It suggests that to efficiently combat severe air pollution, it is necessary to not only mitigate urban emissions, but also regional-scale biomass emissions, including agricultural crop residue burning.

Responsible neighboring states:

Phenomenon of crop residue burning in Delhi's neighboring states such as Punjab, Haryana and Uttar Pradesh contributes to national capital's winter pollution.

In these crop residue burning occurs after harvest which typically occurs in October/November for wheat and in April/May for rice.

Summer months in Delhi see pollution majorly owing to local sources, winter and autumn particulate matter (PM) has large footprint of biomass burning.

Weather conditions:

Wind direction in winter (northwesterly), as opposed to southwesterly in summer and monsoon, brings biomass burning load to Delhi during winder.

Besides, weather conditions ensure that atmospheric boundary layer height in winters is lower, which means that atmospheric transport occurs closer to the surface in winter and autumn.

Impact:

Atmospheric pollution due black carbon is pronounced problem not only in Delhi but in other cities that fall in the Indo-Gangetic Plains (IGP). It not only affects health adversely but also contributes significantly to global warming.