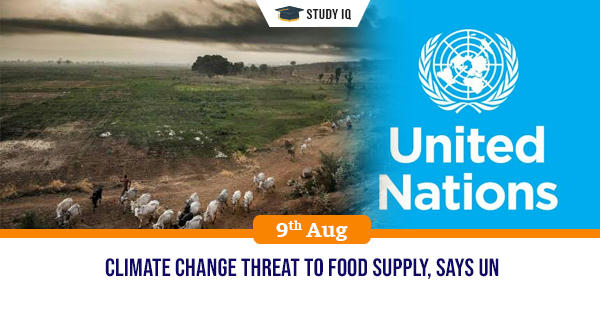 Climate change threat to food supply, says UN
Date: 09 August 2019
Tags: Climate Change
Context: World's land and water resources are being exploited at "unprecedented rates, which combined with climate change is putting dire pressure on the ability of humanity to feed it" warns the new IPCC report.
About the report: The report prepared by more than 100 experts from 52 countries and released in summary form in Geneva on Thursday (8/09/2019).
Findings:
A half-billion people already live in places turning into desert, and soil is being lost between 10 and 100 times faster than it is forming.
Climate change will make those threats even worse, as floods, drought, storms and other types of extreme weather threaten to disrupt, and over time shrink, the global food supply.
Already, more than 10% of the world's population remains undernourished, and some authors of the report warned in interviews that food shortages could lead to an increase in cross-border migration as food shortage would affect the poorer regions more.
About the IPCC:
The Intergovernmental Panel on Climate Change (IPCC) is an intergovernmental body that was established in 1988 by the World Meteorological of the United Nations.
It is dedicated to providing the world with an objective, scientific view of climate change, its natural, political and economic impacts and risks, and possible response options.
The IPCC is writing a series of climate reports, including one last year on the disastrous consequences if the planet's temperature rises just 1.5 degrees Celsius above its pre-industrial levels, as well as an upcoming report on the state of the world's oceans.