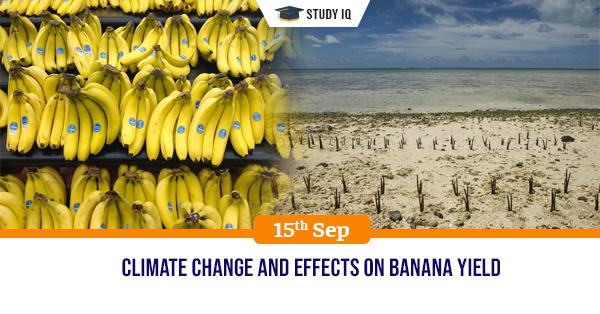 Climate change and effects on Banana yield
Date: 15 September 2019
Tags: Climate Change
Issue
Due to continued global warming, the banana yield gains could slow down or even reverse in some countries leading to a drop in yield significantly by 2050.
Background
Global warming in the last 60 years had helped increase banana yield at annual rate of 0.024 tonnes per hectare translating to an average increase of 1.37 tonnes per hectare in 27 countries since the 1960s.
But changing climatic conditions can have adversely impacted the growth of banana yield and reducing profits of countries such as India.
Details
India, which is the world's largest producer and consumer of banana, along with nine other countries such as Brazil will see a reduction in the yield.

At the same time, certain other countries like Ecuador and Honduras, and many in Africa, will witness an overall increase in crop yield.

Decline in production due to climate change in the case of India can be mitigated by strong, technology-driven measures to increase the yield.

Study fails to consider agro-economic considerations such as cultivation infrastructure, access to market etc. Similarly, the extent of irrigation in use has not been accounted for in the analysis.
India and Banana Production
India is the world's number one producer of banana. Over 29% of the world's banana production is in India. The average yield of banana in India is around 60 tonnes per hectare.