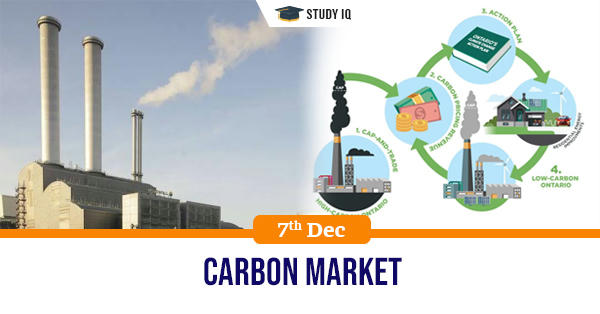 Carbon market
Date: 07 December 2019
Tags: Climate Change
Issue
Disagreements over setting up a new carbon market has been observed during Climate Conference that is being held in Madrid.
Background
Carbon markets, which allow for buying and selling of carbon emissions with the objective of reducing global emissions, is an unfinished agenda from last year's meeting in Katowice, Poland.
Details
Under the Paris Agreement, every country has to take action to fight climate change. These actions need not necessarily be in the form of reduction in greenhouse gas emissions, which can constrain economic growth.

India has said it would reduce its emissions per unit of GDP. Only the developed countries have included absolute emission cuts in their action plans.

Since India does not need to make absolute reductions, there is no incentive to make upgradation in technology that can reduce carbon emission.

It is to deal with situations like these that the carbon market mechanism is conceived. Markets can potentially deliver emissions reductions over and above what countries are doing on their own.

For Example, if a developed country is unable to meet its reduction target, it can provide money or technology to a brick kiln in India, and then claim the reduction of emission as its own.

Alternatively, the kiln can make the investment, and then offer on sale the emission reduction, called carbon credits.

Another party, struggling to meet its own targets, can buy these credits and show these as their own.

Carbon markets also existed under the Kyoto Protocol, which is being replaced by the Paris Agreement next year. The market mechanisms being proposed under the Paris Agreement are conceptually not very different, but are supposed to have more effective checks and balances, and monitoring and verification processes.

The main tussle is over two or three broad issues, what happens to carbon credits earned in the Kyoto regime but not yet sold, what constitutes double-counting, and transparency mechanisms to be put in place.

Developing countries have several million unsold CERs (certified emission reductions), each referring to one tonne of carbon dioxide-equivalent emission reduced, from the Kyoto regime.

Under the Kyoto Protocol, only developed countries had the obligation to reduce emissions. In the initial phase, some of these were interested in buying CERs from projects in India or China, which were not obliged to make reductions.

As the demand for CERs crashed, countries like India were left with projects generating CERs with no one to buy them.

The second issue is that of double counting, or corresponding adjustment. It is important to ensure that in this process, credits are not counted at more than one place; whoever sells carbon credits should not simultaneously count these as emissions it has reduced.

The developing countries argue that the country that reduced emissions should be able to show it even after selling the credits, and that adjustments should be made only for subsequent transfers, if any.
Significance of carbon markets
Carbon markets are not essential to the implementation of Paris Agreement. But with the world doing far less than what is required to prevent catastrophic impacts of climate change, the markets can be an important tool to close the action gap.