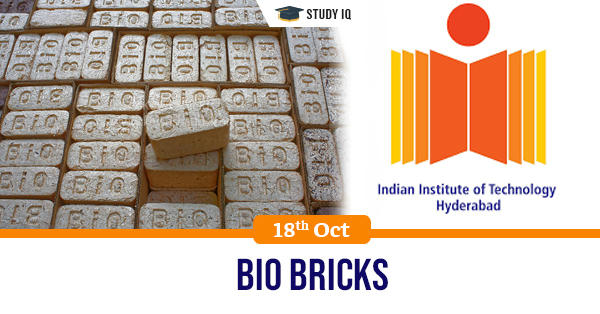 Bio bricks
Date: 18 October 2019
Tags: Climate Change
Issue
Researchers from Indian Institute of Technology, Hyderabad, and KIIT School of Architecture, Bhubaneswar (Odisha), have developed bio-bricks from agricultural waste.
Background
About 22% of India's total annual CO2 emissions is by the construction sector. Clay bricks, not only use up fertile top soil, but their manufacturing process also emits significant amounts of carbon dioxide into the atmosphere.
Details
The process of making bio-bricks starts with careful selection of the dry agro-waste like paddy straws, wheat straws, sugarcane bagasse and cotton plant. It ends with a compressed end product that is hard enough to be used as a construction material.

Bio-bricks are not only sustainable when compared to clay bricks, but are carbon sinks as they fix more carbon dioxide than they produce during their life cycle.
Significance
Re-purposing of agricultural waste is particularly important in India. More than 500 million tonnes of agricultural waste is produced in the country every year, which is not utilized appropriately.

While some of this is reused as fodder,most are burnt, which results in severe air pollution.

The bricks provide good insulation to heat and sound and help in maintaining humidity of the buildings, making these houses suitable for hot-humid climate like India.
Drawbacks
These bio-bricks are not as strong as burnt clay bricks and cannot be used directly to build load-bearing structures.