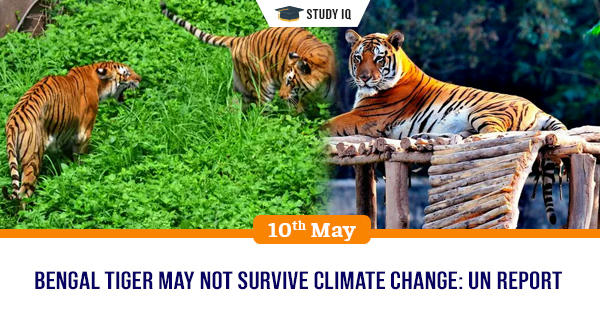 Bengal Tiger may not survive climate change: UN Report
Date: 10 May 2019
Tags: Biodiversity, Climate Change
According to recent United Nations (UN) report, Climate change and rising sea levels eventually may wipe out Sundarbans, one of world's last and largest habitat of Bengal tiger. Bengal tigers are among 500,000 land species whose survival is in question because of threats to their natural habitats. The report was based on climate scenarios developed by Intergovernmental Panel on Climate Change (IPCC) for its simulation models and adds to existing studies that offered similarly grim predictions for wildlife in the Sundarbans.
Key findings of UN report
Sunderbans, 10,000 square kilometres of marshy land in India and Bangladesh, hosts the world's largest mangrove forest and rich ecosystem.

It supports several hundred animal species, including Bengal tiger. But 70

%

of Sunderbans is just few feet above sea level, and faces threat of grave climate changes.

Changes brought by global warming will decimate the few hundred or so Bengal tigers remaining there. By 2070, there will be no suitable tiger habitats remaining in Bangladesh Sundarbans.

In 2010, World Wide Fund for Nature (WWF) had projected that sea level rise of 11 inches will reduce number of tigers in Sundarbans by 96%within a few decades.

Since early 1900s, hunting, habitat loss and illegal trade of tiger parts have decimated its global population from around 100,000 to fewer than 4,000.