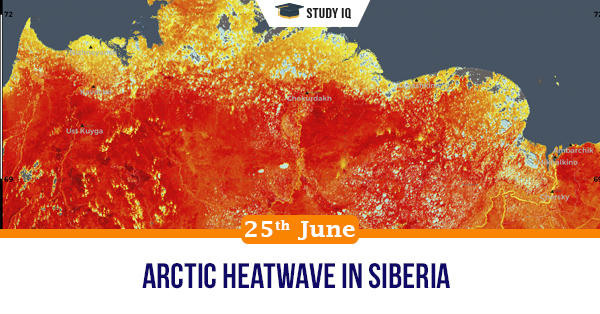 Arctic heatwave in Siberia
Date: 25 June 2020
Tags: Climate Change
Issue
The Arctic Circle has recorded temperatures reaching over 38 degrees Celsius in the Siberian town of Verkhoyansk, likely an all-time high.
Background
These higher temperatures are pushing the world towards what might be the hottest year on record, despite a fall in emissions due to the coronavirus lockdown.
Details
Russia had declared a state of emergency after a power plant fuel leak in its Arctic region caused 20,000 tonnes of diesel oil to escape into a local river called Ambarnaya.

The oil spill was caused when a tank at the power plant collapsed due to melting permafrost, that weakened the support it provided to the tank.

The warmer temperatures in Siberia have contributed to May being the warmest on record globally, at 0.63 degrees Celsius warmer than the recorded average temperatures for May between 1981-2010.

According to the Copernicus Climate Change Service (CCCS), in the past month, the most above-average temperatures were recorded in Siberia. Siberia has been recording higher-than-average surface air temperatures since January.

This is not the first time that rising temperatures in the Arctic have created alarm. The daily anomalies during that year, for instance, recorded above normal temperatures exceeding 16 degrees Celsius in some locations.

Research has attributed the rising temperatures to large-scale wind patterns that blasted the Arctic with heat, the absence of sea ice, and human-induced climate change, among other reasons.

In the last decades, there has been an increase of heatwave occurrences over the terrestrial Arctic. It also mentions that heatwave occurrences in this region have already started to threaten local vegetation, ecology, human health, and economy.