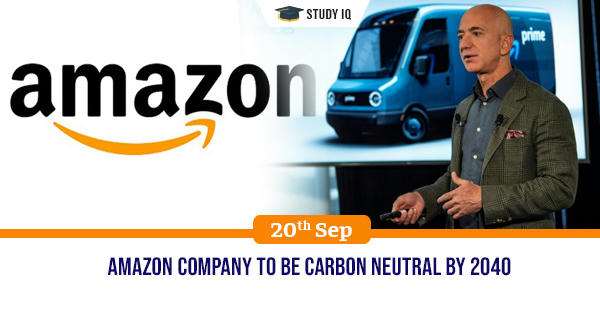 Amazon company to be carbon neutral by 2040
Date: 20 September 2019
Tags: Climate Change
Issue
Amazon.com Inc Chief Executive Officer Jeff Bezos committed the company to being carbon neutral by 2040 and said that part of the pledge is an order for 1,00,000 electric delivery vans.
Background
Cutting emissions is a challenging goal for Amazon, which delivers 10 billion items a year and has a massive transportation footprint. Amazon plans to meet the goals of the Paris climate accord 10 years ahead of schedule.
Details
Amazon will invest $100 million to restore forests and wetlands and said that company will take a "careful look" at political campaign contributions it makes that could be going to politicians that deny climate science.

Amazon also announced a new program called Shipment Zero, with a plan to make 50% of all Amazon shipments net zero carbon by 2030.
Carbon Neutral
Carbon neutrality, or having a net zero carbon footprint, refers to achieving net zero carbon dioxide emissions by balancing carbon emissions with carbon removal or simply eliminating carbon emissions altogether.
Paris Climate Accord
The Paris Agreement is an agreement within the United Nations Framework Convention on Climate Change, dealing with greenhouse-gas-emissions mitigation, adaptation, and finance, signed in 2016.

As of March 2019, 195 UNFCCC members have signed the agreement, and 186 have become party to it.

The Paris Agreement's long-term goal is to keep the increase in global average temperature to well below 2 °C above pre-industrial levels; and to limit the increase to 1.5 °C.