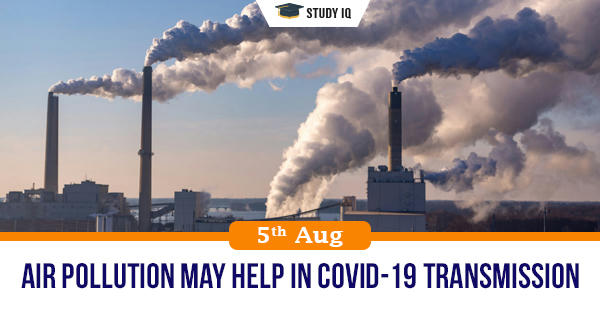 Air pollution may help in Covid-19 transmission
Date: 05 August 2020
Tags: Climate Change
Issue
Air pollution indirectly influences the transmission of COVID-19 and the improvement in air quality during the lockdown may have reduced the chances of infection, a study has found.
Background
The study focussed on the infection rate induced by air quality in central Kerala and other global COVID hotspots, including China, Italy and the U.S.
Details
It claims that one of the potential modes of transmission of COVID-19 is through ambient air by droplets which carry the viruses.

This means that changes in the environment will affect the transmission of the infection. Air pollution is one of the elements that can change the environment. So it can be said that air pollution can indirectly influence the transmission.

The dust particles exposed to humid environment have been contaminated with a water film on it.

There is a possibility of the mix of saliva droplets and the dust-coated with the water film becoming more airborne and spreading the infection.

Wind can act as a vital factor in the spread of respiratory infectious diseases, as it may modulate the dynamics of various vectors and pathogens and indirectly impact coronavirus infection by affecting air quality.

The spread of some airborne viruses (such as measles and influenza) have appeared to increase through ambient fine particles that remain airborne longer, travel longer distances, cover larger areas, and penetrate the lungs much more deeply.

Since the lungs are the main target of this virus, and the virus spikes (binding domains) attach to the lungs' cell receptors, the chances of inflection could rise if a person is exposed to severe air pollution.

Air pollution, measured by the air quality index (AQI), may exert a significant impact on the transmission of and infection by COVID-19.

This is partly because COVID-19 is a respiratory disease, and a denser concentration of ambient fine particulate matter could carry the coronavirus in the air for longer, and across larger distances.

The researchers pointed out that the improvement in air quality during the lockdown period might have restricted the transmission of the infection in some places. The hypothesis would help design protocols for the prevention of future pandemics.