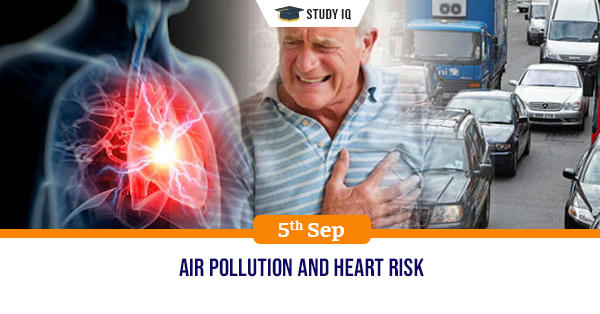 Air pollution and heart risk
Date: 05 September 2019
Tags: Climate Change
Issue
Household air pollution has emerged as one of the key causes of cardiovascular diseases (CVDs), and 12% of all CVDs in low-income countries are attributable to it, a new report in The Lancet has said.
Background
The combined effects of ambient (outdoor) and household air pollution cause about 7 million premature deaths every year, largely as a result of increased mortality from stroke, heart disease, chronic obstructive pulmonary disease, lung cancer and acute respiratory infections.
Details
At least 65% of homes in India use biomass fuel for cooking and heating. In urban areas, the use of mosquito coils, dhoop sticks and agarbattis contribute to high household air pollution.

Household air pollution is a greater risk factor for CVD in India than diabetes, tobacco use, low physical activity and poor diet.

An earlier report from a PURE study (Lancet Respiratory Medicine 2014) showed that Indians had the lowest lung function among the 21 countries studied.

The major focus has been ambient air pollution that is pollution rising from motor vehicles and industries.
Conclusion
It is now time to wake up and realise that the pollution we generate in our house is also responsible for significant adverse effects.
If the household air pollution can be controlled, we can see significant decrease in mortality including due to cardiovascular disease in India.