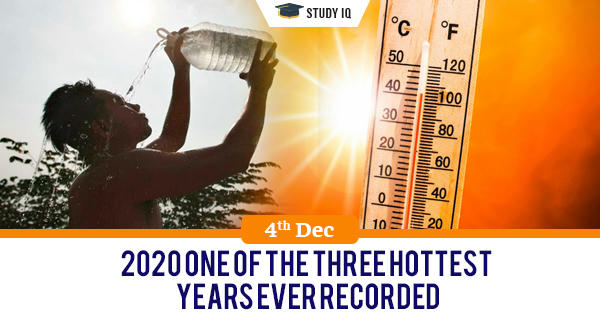 2020 one of the three hottest years ever recorded
Date: 04 December 2020
Tags: Climate Change
Issue
The year 2020 is on course to be one of the three warmest ever recorded, as the world is on the brink of a climate catastrophe.
Background
The past six years, 2015 to 2020, are set to make up all six of the hottest years since modern records began in 1850, according to provisional 2020 State of the Global Climate report by World Meteorological Organization (WMO).
Details
The 2015 Paris Agreement on climate change calls for capping global warming at well below two degrees Celsius above the pre-industrial (1850-1900) level, while countries will pursue efforts to limit the increase to 1.5 degrees Celsius.

The average global temperature in 2020 is set to be about 1.2 degrees Celsius above the pre-industrial level. There is at least a one in five chance of it temporarily exceeding 1.5 degrees Celsius by 2024.

Greenhouse gases in the atmosphere, the main reason of climate change, hit record highs last year and continued climbing in 2020 despite measures to halt the Covid-19 pandemic.

Oil, gas, and coal production must fall six percent a year in order to limit catastrophic global warming, according to UN's annual Production Gap assessment, which measures the difference between the Paris goals and countries' fossil fuel production plans.

The effect of climate change has been immense. Wildfires consumed vast areas in Australia, Siberia, the US west coast, and South America.

Flooding in parts of Africa and southeast Asia led to massive population displacement and undermined food security for millions.

Recently sea level has risen at a higher rate due partly to increased melting of ice sheets in Greenland and Antarctica.
UN Annual production Gap Assessment
The report conveys the large discrepancy between countries' planned fossil fuel production and the global production levels necessary to limit warming to 1.5°C and 2°C.

This gap is large, with countries aiming to produce 120% more fossil fuels by 2030 than would be consistent with limiting global warming to 1.5°C.
World Meteorological Organisation
The World Meteorological Organization (WMO) is a specialized agency of the United Nations responsible for promoting international cooperation on atmospheric science, climatology, hydrology and geophysics.

The WMO is made up of 193 countries and territories, and facilitates the free and unrestricted exchange of data, information, and research between the respective meteorological and hydrological institutions of its members.

It also collaborates with nongovernmental partners and other international organizations on matters related to environmental protection, climate change, resource manager, and socioeconomic development.

Headquartered in Geneva, Switzerland, the WMO is governed by the World Meteorological Congress, composed of member states, which meets every four years to set policies and priorities. The Congress is led by an Executive Council led by the President.