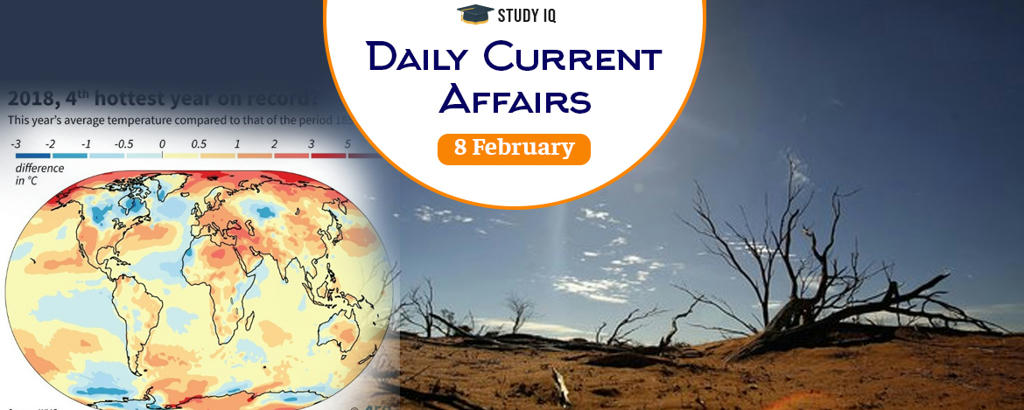 2018 was 4th hottest year on record: WMO
Date: 08 February 2019
Tags: Climate Change
UN agency World Meteorological Organization (WMO) has officially announced that 2018 was the fourth warmest year on record. In fact, 2015, 2016 and 2017 already have been confirmed as warmest years on record since global temperature records began. It concludes that it is clear sign of continuing long-term climate change associated with record atmospheric concentration of greenhouse gases and stresses for urgent need for action to rein in runaway global warming
WMO Findings
The degree of warming during past four years has been exceptional, both on land and in the ocean.

Global average surface temperature in 2018 was approximately 1°C above pre-industrial baseline (1850-1900).

The year 2016, which was influenced by strong El Nino, remains warmest year on record with 1.2°C above pre-industrial baseline.

20-warmest years in history all occurred within last 22 years. In coming years, temperatures are likely to approach levels that that most governments view as dangerous for the Earth.

Heightened temperatures in recent years have contributed to number of extreme weather events such as heatwaves, powerful storms, droughts, mudslides, extinctions and rising sea levels.
World Meteorological Organization (WMO)
It is intergovernmental organization whose mandate covers weather, climate and water resources. Its supreme body is World Meteorological Congress.

Established in 1950 by ratification of WMO Convention. It originated from International Meteorological Organization (IMO), the roots of which were planted at1873 Vienna International Meteorological Congress.

Headquartered in Geneva, Switzerland and is headed by the Secretary-General. It has185 Member States and 6 Member Territories.

It is specialized agency of United Nations (UN) for meteorology, operational hydrology and related geophysical science,

It is dedicated to international cooperation and coordination on state and behavior of Earth's atmosphere, its interaction with land and oceans, weather and climate and distribution of water resources.