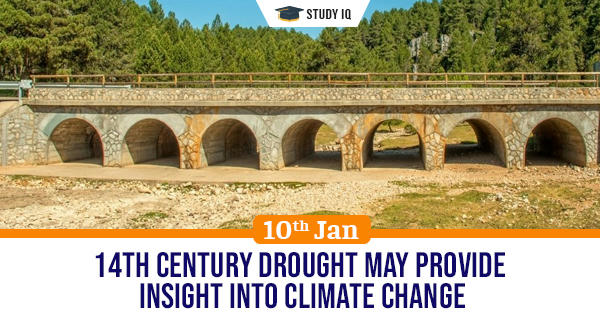 14th century drought may provide insight into climate change
Date: 10 January 2021
Tags: Climate Change
Issue
Scientists are studying once in a century drought from medieval Europe to understand the impact of extreme climate change.
Background
Between 1302 and 1307, many regions on the European continent were facing exceptional heat and drought, based on historical records and data collected from tree rings and sediment cores.
Details
These extreme natural events hold similar characteristics to recent weather anomalies, and they could help us better predict the course of modern-day climate change.

During the early 14th century, north and south regions over Medieval Europe appear to have see-sawed between extreme rainfall and extreme drought. This was similar to what happened in 2018.

The transitional period between two climate phases could be characterized by smaller temperature differences between the latitudes and cause longer-lasting large-scale weather patterns.
Reason for occurrence
It's still unclear how similar these two see-saws were, but both appear to have been driven by a gradient of atmospheric pressure.

The 2018 drought was marked by low-pressure anomalies over northern and southern Europe, and in the early 1300s, a high-pressure system predominated over central Europe.
Post heat effects
Beginning in 1310, the European continent seems to have undergone a rapid shift in climatic conditions, from a period of warming to a period of cooling, marked by extreme wetness.

It is suspected that famous Italian author Dante Alighieri based his descriptions of hell's Inferno on the widespread famine and disease that soon followed.

This period has become known as the "Dantean Anomaly" – a well-researched topic due to its enormous impact on famine and disease in Europe.

Yet instead of near-constant rain, the first decade of the 14th century appears to have been unusually dry. In 1302, central Europe was still very rainy, and yet in the years to follow, the weather began to change.

The team thinks this "outstanding dry anomaly" was part of the natural climatic shift from the Medieval Climate Anomaly to the Little Ice Age.