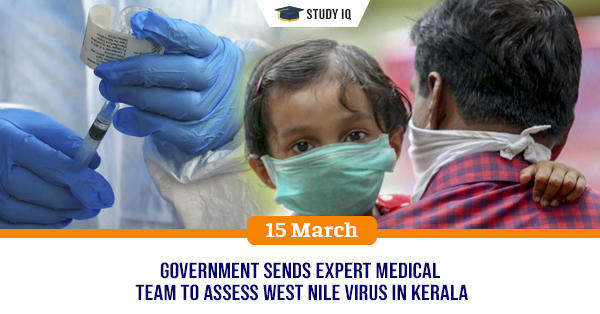 Government sends expert medical team to assess West Nile Virus in Kerala
Date: 15 March 2019
Tags: Biotechnology
Union Ministry of Health and Family Welfare has sent special medical team of National Centre for Disease Control (NCDC) to Malappuram district of Kerala from where confirmed case of West Nile Virus (WNV) fever was reported. It also has alerted apex research organization Indian Council of Medical Research (ICMR) for keeping close watch at central and state level.
West Nile Virus (WNV)
It is viral infection which is typically spread by mosquitoes bites and can cause neurological disease as well as death in people.

It is member of flavivirus genus and belongs to Japanese encephalitis antigenic complex of the family Flaviviridae.

It was first detected in a woman in West Nile district of Uganda in 1937. It was later identified in birds (crows and columbiformes) in Nile delta region in 1953 are its natural hosts.

It is commonly found in Africa, Middle East (West Asia), Europe and North America. Its largest were recorded in Greece, Israel, Romania, Russia and USA.
Presence in India
In India, it is prevalent in Gujarat, Rajasthan and South Indian states

Previous confirmed cases of WNV infections were reported from Vellore (Tamil Nadu) and Kolar (Karnataka) districts during 1977, 1978 and 1981 outbreaks.

In 2011, during outbreak of Acute Encephalitis Syndrome (AES) in Kerala, presence of WNV was also confirmed in clinical specimens.
Transmission
It is transmitted to humans through infected mosquito bites. Mosquitoes become infected with it when they feed on infected birds (natural hosts), which circulate virus in their blood.

It may also be transmitted through contact with other infected animals, their blood or other tissues. Once person gets infected, the virus multiplies fast.

No human-to-human transmission of this virus through casual contact has been reported.

But, very few small proportion of human infection cases have been reported through blood transfusions, organ transplant and breast milk feeding. One case of mother to child transmission (transplacental) also has been reported.
Symptoms
The infection is either has no symptoms (asymptomatic) or can result in West Nile fever or severe West Nile disease.

People infected with it suffer from fever, headache, fatigue, body aches, nausea, vomiting, occasionally with skin rash and swollen lymph glands.

In case of severe West Nile disease:

It is also called neuroinvasive disease, such as West Nile poliomyelitis or West Nile encephalitis or meningitis. In this case, patient suffers from headache, high fever, neck stiffness, disorientation, stupor, coma, tremors, convulsions, muscle weakness and paralysis.
Treatment of West Nile Virus
There is no vaccine available for humans against this virus. Moreover, there is also no definite treatment of disease. Its treatment is mainly with fluids and supportive care.

It is diagnosed with blood igm levels and Polymerase Chain Reaction (PCR). Its prevention can be done by preventing mosquito bite, using repellents and wearing full sleeves.