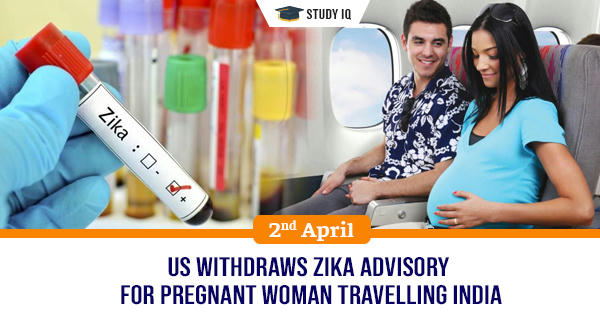 US withdraws Zika advisory for pregnant woman travelling India
Date: 02 April 2019
Tags: Biotechnology
United States (US) health monitor- Centers for Disease Control and Prevention (CDC) has withdrawn its Zika travel advisory against pregnant women travelling to India. It also has changed India's status from "ongoing outbreak" of Zika virus to "current or past transmission but no current outbreak". This comes after strong rebuttal from Government of India.
Background
US-CDC had issued Zika travel advisory against pregnant women travelling to India in December 2018 after outbreak of Zika virus was reported in India especially in Rajasthan and surrounding states. It was level 2 alert (of the three level alert), which required travelers enhanced protection. The advisory had refrained pegnant women to avoid travelling to areas with risk of Zika as it can cause serious birth defects.
Between September and November 2018, India witnessed Zika virus disease outbreaks in Jaipur in Rajasthan as well as Bhopal and its neighbouring districts in Madhya Pradesh. More than 150 cases were reported. However since end November 2018, no fresh cases of Zika virus disease were reported from both the states.
Zika virus
It is mosquito-borne virus transmitted by day time active Aedes aegypti mosquitoes which also transmit three other vector-borne diseases Chikungunya, dengue and yellow fever.

It belongs to family Flaviviridae and Genus Flavivirus. It is related to dengue, yellow fever, Japanese encephalitis and West Nile viruses.

It derives its name from Zika Forest, Uganda, where it was first identified in 1947. Now it is emerging disease and has been reported by 86 countries worldwide.

Transmission:

It is transmitted by infected Aedes aegypti mosquitoes. It can also spread through sexual contact and blood transfusion.

Symptoms:

Its initial symptoms are similar to other viral infections such as dengue, and includes fever, conjunctivitis, muscle and joint pain, skin rashes, malaise, and headache.

However, its long term threats are more severe especially if pregnant women are infected with it. They may give birth to babies with serious birth defects or severe brain damage i.e. neurological disorders or foetal deformation known as Microcephaly in which infants are born with abnormally smaller heads.

Besides it may also reportedly cause Guillain-Barré syndrome, a condition in which body's immune system attacks part of the nervous system.

Treatment and Prevention:

There is no specific vaccine or treatment currently available to treat it. Protection against mosquito bites and clearing stagnant water where mosquitoes breed is best form of prevention.

Latest Outbreaks:

In 2015 and 2016 it was first reported in Brazil and later spread to other countries in South/Latin America, Central America, North America and Caribbean.