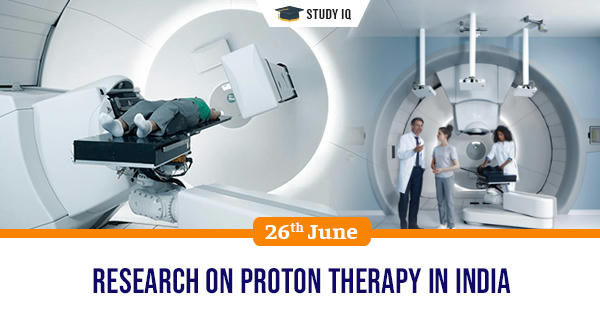 Research on Proton Therapy in India
Date: 26 June 2019
Tags: Biotechnology
Union Minister of State (Health and Family Welfare) Ashwini Kumar Choubey in written reply in the Rajya Sabha informed about present status of Research on Proton Therapy in India. Proton therapy is one of the advanced cancer treatment in which only the cancer cells are targeted and the rest of the body remains unharmed unlike chemotherapy or radiation therapy.
Key Facts
In the Government sector, research activities for research in proton therapy are mostly carried out by Indian Council of Medical Research (ICMR), Department of Science and Technology and Department of Atomic Energy. National Cancer Institute (Jhajjar) of All India Institute of Medical Sciences, New Delhi has also collaborated with National Cancer Institute of USA. Tata Memorial Centre (TMC), a grant-in-aid Institution under Department of Atomic Energy also has initiated collaboration with Bhabha Atomic Research Centre (BARC), Tata Institute of Fundamental Research (TIFR ) for research in proton therapy
About Proton therapy
It is also called proton beam therapy. It is type of Radiation therapy that uses protons rather than x-rays to treat cancer. Like x-ray radiation, proton therapy is type of external-beam radiation therapy. At high energy, protons can destroy cancer cells.
Benefits: It enables larger doses of radiation to be used to treat cancers while significantly reducing damage to healthy tissue. It can also be combined with x-ray radiation therapy, surgery, chemotherapy, and immunotherapy.