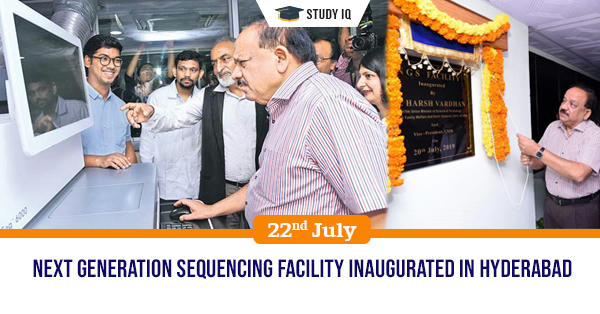 Next Generation Sequencing Facility inaugurated in Hyderabad
Date: 22 July 2019
Tags: Biotechnology
Next Generation Sequencing (NSG) facility was recently inaugurated at Centre for Cellular and Molecular Biology (CCMB) in Hyderabad (capital of Telangana). It is the fourth such facility in the country.
NSG facility at CCMB
It can sequence 18,000 samples in 8 minutes. It includes technology for high genome sequencing and also diagnostic sequencing of clinical samples. With this, CCMB can now sequence up to 30 human genomes or 384 diagnostic samples in a day.
Applications: It will help prenatal genetic screening and counselling, thereby generating large scale genomic data critical for diagnosis and therapy. It will also be helpful for diagnostics of patients suffering from rare genetic disorders.
About Genome sequencing
It is process of figuring out order of DNA nucleotides, or bases, in genome—the order of adenines (A), cytosines (C), guanines (G), thymines (T) that make up an organism's DNA. Next Generation Sequencing allows parallel Genome sequencing, resulting in generation of Giga bases of data in a short amount of time.
Benefits of NGS: It reduces cost per genome significantly, making genomic data more accessible to individual researchers. It will make genomics an attractive and integral part of any successful bioscience research project.