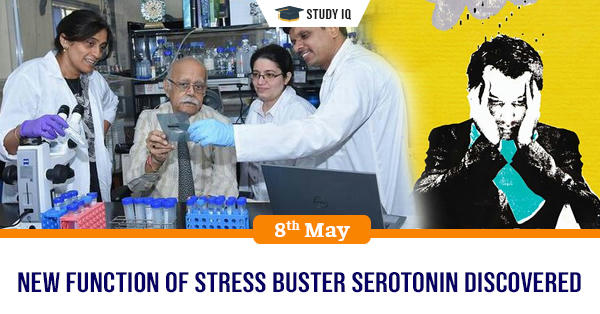 New Function of stress buster serotonin discovered
Date: 08 May 2019
Tags: Biotechnology
Researchers from Mumbai based Tata Institute of Fundamental Research (TIFR) have found a novel function for serotonin, a chemical that signals between neurons. They found that serotonin is involved in generation of new mitochondria (powerhouse of the cell) in neurons and increased cellular respiration and fuel (ATP) in the cell.
About Serotonin
It is also known by chemical name as 5-hydroxytryptamine (5-HT). It is monoamine neurotransmitter i.e. it is chemical that sends signals between neurons. It plays important role in coping with stress at the level of organism.
Medical applications of new Functions
Serotonin's newly indentified function of generation of new mitochondria and cellular ATP has been studied in mice and rats. If it is found to be true in humans, it opens way for important medical applications especially in neurological disorders. It could be used to prevent neuronal loss (major cause of neurodegenerative diseases such as in Alzheimer and Parkinson) and mitochondrial abnormalities (cause or contribute to neuronal death).