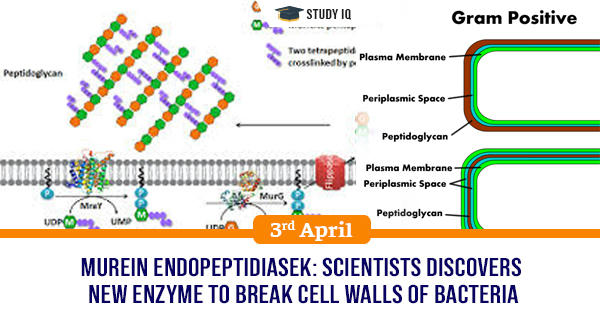 Murein EndopeptidiaseK: Scientists discovers new enzyme to break cell walls of bacteria
Date: 03 April 2019
Tags: Biotechnology
Researchers from Center for Cellular and Molecular Biology (CCMB) have discovered new enzyme "Murein EndopeptidiaseK" which can break cell walls of bacteria. It was discovered while they were studying cell growth in bacteria. This discovery offers potential for new drug delivery route to arrest anti-bacterial resistance to existing antibiotic drugs.
Key Findings of this research
It identified principal process in cell which governs synthesis machinery to build cell wall in the first place.

With this identification, they discovered new mechanism (enzyme) through which the cell regulates growth of its cell wall which is fundamental for bacterial growth and division.

The discovered enzyme can act on protein of cell wall in Escherichia coli (E. coli) that can be potential drug target.

The main focus of this research was blocking this enzyme from functioning, resulting in new ways to target microbes and leading to new wave of antibiotic drugs that may play a crucial role in the battle against antimicrobial resistance.
Centre for Cellular and Molecular Biology (CCMB)
It is premier biotechnology research establishment under aegis of Council of Scientific and Industrial Research. It is located in Hyderabad, Telagana.

Its objectives are to conduct high quality basic research and training in frontier areas of modern biology.

It also promotes centralized national facilities for new and modern techniques in the inter-disciplinary areas of biology.

It has been designated "Center of Excellence" by the Global Molecular and Cell Biology Network, UNESCO.

India's national biosafety level – 4 containment facility for human infectious diseases is located on campus of CCMB.