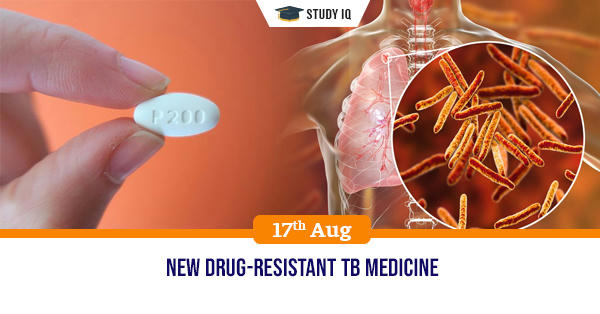 New drug-resistant TB medicine
Date: 17 August 2019
Tags: Biotechnology
Issue
Treating drug-resistant tuberculosis multidrug-resistant TB (MDR-TB) and extensively drug-resistant TB (XDR-TB) — got a shot in the arm on August 14 when the U.S. Food & Drug Administration (FDA) approved a new drug Pretomanid.
Background
According to the WHO, the treatment success in MDR-TB patients is about 54%, while it is just 30% in the case of XDR-TB patients. Most drugs are ineffective in people with XDR-TB and so a combination of eight drugs for more than a year is need for XDR-TB treatment.
Drug resistant TB bacteria
Antibiotic resistant bacteria are bacteria that are not controlled or killed by antibiotics. They are able to survive and even multiply in the presence of an antibiotic. Most infection-causing bacteria can become resistant to at least some antibiotics.
Details
People with TB who do not respond to at least isoniazid and rifampicin, the first-line TB drugs are said to have MDR-TB. People who are resistant to isoniazid and rifampin plus any other injectible drugs are said to have XDR-TB.
Pretomanid drug along with bedaquiline and linezolid is meant for treating adults with XDR-TB. These can be used only in those patients who cannot tolerate the MDR-TB treatment or do not respond to standard MDR-TB treatment regimen.
Side effects of drugs
The FDA has approved the drug based on limited clinical safety. The Safety and effectiveness of the drug has been studied and established only when used in combination with bedaquiline and linezolid.
In trial it was reported to have caused serious adverse reactions including liver toxicity (hepatotoxicity), suppression of bone marrow activity leading to reduced production of red blood cells, as well as peripheral and optic neuropathy.
The drug can cause lactate to accumulate in the body leading to sharp reduction in the pH of the blood (lactic acidosis)