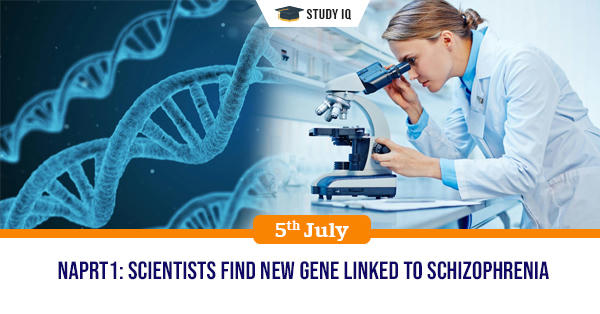 NAPRT1: Scientists find new gene linked to schizophrenia
Date: 05 July 2019
Tags: Biotechnology
Indian and Australian scientists in a collaborative effort have identified new gene called NAPRT1 which is directly linked to schizophrenia. It was identified after analysing genomes of more than 3000 individuals in 18 years. India's R. Thara from Chennai based Schizophrenia Research Foundation was involved in this research.
Findings of this research
It identified gene called NAPRT1 – that encodes an enzyme involved in vitamin B3 metabolism – is directly linked to schizophrenia. It also found that those with schizophrenia were more likely to have a particular genetic variation.
Significance: These findings will help to shed more light on what makes people susceptible to schizophrenia and possible treatments for the future.
About Schizophrenia
It is chronic and severe mental disorder, characterized by profound disruptions in thinking, sense of self and affecting language, perception. According to WHO, it affects more than 21 million people worldwide.

It typically begins in late adolescence or early adulthood (between ages 16 and 30). People affected with it may seem like they have lost touch with reality.

Causes:

Its exact causes are still not known, but it is believed that genetic as well as environmental factors such as exposure to viruses contribute to causation. Scientist also believes that life stressors may also play role in its onset and course.